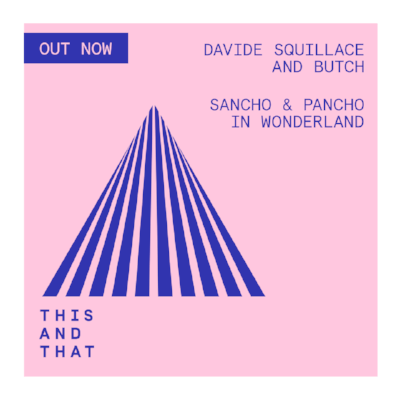 Davide Squillace & Butch - Sancho & Pancho in Wonderland
Butch and Davide Squillace are both titans in the world of house music, each with an impressive legacy behind them, and a gig schedule that sees them fly all over the world to DJ at festivals and iconic club venues like Watergate, Fabric and DC10.
Coming fresh from dropping an album on Crosstown Rebels, Davide Squillace's back catalogue also includes music on Moon Harbour, Hot Creations, Minus, Snatch! Records, and SCI+TEC.
Boasting an equally impressive back catalogue, Butch has contributed tracks and remixes to imprints such as Rekids, Cocoon, Rebirth, Saved Records, Defected, and Diynamic.
Both of the artists are most commonly known for their tech house sound that's rich in percussive textures and their combined output on this release has a stripped back tribal sound with quirky synth lines.
Track one "Cutso" blends congas and other percussive textures with trippy effects processing and rubbery synths. With a raw energy this dance floor focused groove is sure to set the club alight and be a cross over track for DJ's playing a variety of styles.
The second track "In The Womb" has a deeper sound with a prominent kick drum and an ambient atmosphere brought to life with a sensual female vocal. Stripped back and uplifting, the second half has an extended outro full of moody suspense.
Supported by:
Kölsch, Damian Lazarus, Stacey Pullen, Timo Maas, Uner, Audiofly, Blond:ish, &ME, Reboot, Ralf Kollmann, Alex Kennon, Chus & Ceballos, Matthias Tanzmann, NiCe7, Mathias Kaden, Riva Starr, Yousef.