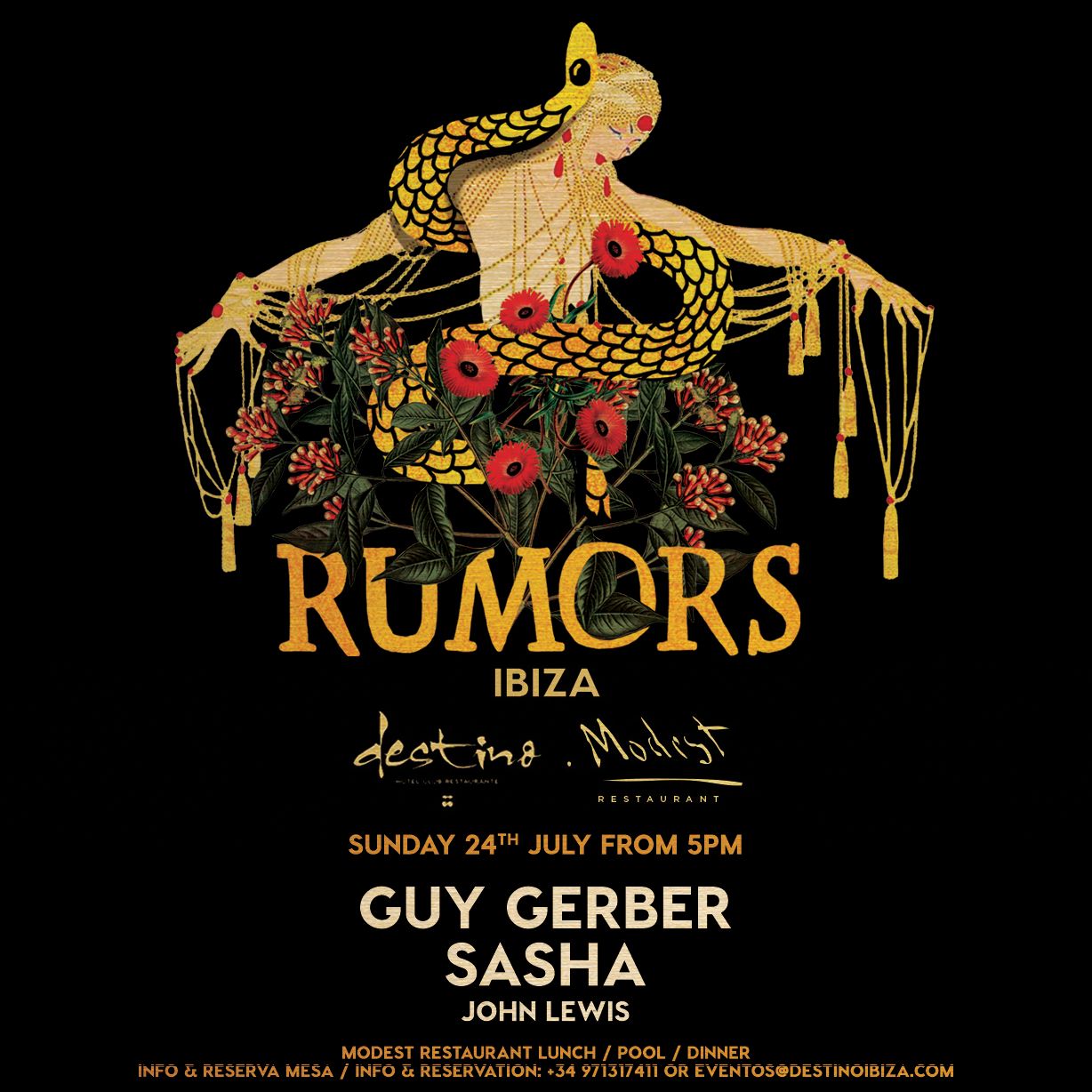 Sasha and Guy Gerber for RUMORS week 10
With the Ibiza season now in full swing, revered producer Guy Gerber is gearing up for the tenth edition of this year's RUMORS residency on Sunday, 24th July. Held in the beautiful outdoor setting of Destino, a plush events space set atop the cliffs of Talamanca, every RUMORS party promises bespoke, detail-orientated production alongside quality underground house and techno. It's a special week this week, as Guy is joined by genuine musical legend Sasha.
Sasha is well known for his groundbreaking past, starting his career at Shelley's and The Hacienda before moving onto true superstar DJ status during the early 2000s. However, not one to rest on his laurels, Sasha is constantly innovating and pursuing new sounds, whether that's through his successful label Last Night On Earth, his landmark Involver series, and his surprisingly ambient 'modern classical' album for Late Night Tales 'Scene Delete', released earlier this year. He's still the master of the atmospheric build up in his DJ sets, which are always packed full of fresh material from his label and friends. He makes a perfect match for the RUMORS parties and Guy's musical ethos.
For a taste of what Guy Gerber himself has to offer at the residency, make sure to check out a live recording of his set at RUMORS on the 26th June on Soundcloud.
Cassy, dOP, Dubfire, Kenny Glasgow, Chaim, Matthew Dear, Nic Fanciulli, Ryan Crosson, Dubfire and Thugfucker are just a selection of names also confirmed to put in an appearance at RUMORS this summer. One of the longest residencies of the 2016 Ibiza season, RUMORS will continue it's well curated musical ethos, expanding and building on Guy's famed residency with a plethora of special guests and magical surprises.
Outside of Ibiza, Guy's also got three more major European RUMORS events lined up so far this summer. The first is in the idyllic setting of Alegamou beach club in Mykonos this Friday 22nd July, whilst a special date at Sardinia for Guy's birthday at Phi Beach is set for the 4th August. Later in the month, he'll be presenting a landmark RUMORS label showcase in Room 1 of London's notorious fabric on August 20th.