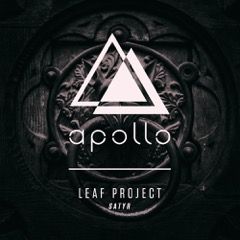 Leaf Project - Satyr
Making his first appearance on the Apollo label is Chicago artist, Leaf Project, with his release, "Satyr". Some may know Leaf Project from his previous releases under the guise of "J Rod" on labels such as Dotbleep Recordings and Flat and Round.
The first track, "MX-5050", is a sexy deep house cut that sounds very reminiscent of the intelligent sound we have grown to love from Brett Johnson. This track has the perfect blend of a chugging percussive drive along with melodic synths and vocal bits. A stand out track on this release for sure.
Next up is the title track "Satyr". This song features an awesome groove, perfect for any time of the party. This cut has a great shuffled beat, and is layered with keys, pads and a killer saxophone that gets your head nodding right away.
Rounding out the release is "Spitfire", another funky deep house cut, that many would say, has a strong likeness to the work of Morgan Geist. This song has the elements of an English take on Detroit, with techno styled rhythms and melodic keys that guide you the whole way.
This is a very high quality and well put together release for Leaf Project and a great addition to the Apollo catalog. A must have for any Detroit fans.