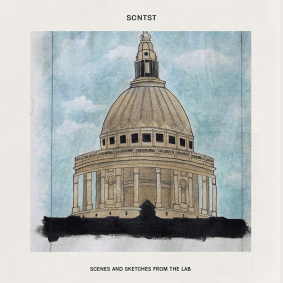 SCNTST - Scenes And Sketches From The Lab
SCNTST aka German producer Bryan Müller is back with a third fantastic album on Boysnoize Records three years after his last.
Müller makes classy shadowy techno as Skee Mask on Illian Tape, but as SCNTST focuses more on expansive and cinematic atmospheres, rich melody and shifting timbres. As such, 'Scenes And Sketches From The Lab' is a considered and cerebral affair that shows maturity and musicality across all fourteen tracks. It reimagines techno, ambient, bass, IDM and electronica into new forms that are artful and hugely detailed, and as such it works as well in headphones as it no doubt will in the club.
Opening up the album is 'Dilettante Fonk', four minutes of lithe and celestial breakbeats with heavenly pads that suspend you in a crystal clear blue sky. 'Espera' is a weightless mix of stuttering synth riffs and broken rhythmic patterns which work in a manic but beautiful fashion above a cacophony of live sounding drums. The exquisite synth craft continues on tracks like the pixelated 'And Don't Dis The Arp' and beguiling experimentation of '08141 PtII'. No drums in this album are standard, they all explore a wide range of styles and tempos, pushing the envelope as they go. Some lurch and loop and others bounce about loosely below blissful chords such as on 'The Ends From Castle Road.'
More introverted moments come on 'Morf (Tomchord Mix)', the tempo rises with driving techno on 'Jomox Plus MFB' then SCNTST shows a playful side on the swaggering 'Outline Dub.' Acid lines makes an appearance on the brain melting 'Opus Quod Acidum' and after serene hi fidelity percussive work outs like ''14 Tepéca' things close on the excellently doleful ambiance of 'Power Remains'.
This is an utterly spelling binding album that shows off impeccable studio skills as well as a wealth of fresh ideas.
Tracklist:
1. Dilettante Fonk
2. Espera
3. Skip Squad
4. And Don't Dis The Arp
5. 08141 PtII
6. The Ends From Castle Road
7. Sine 4 Friendz
8. Morf (Tomchord Mix)
9. Jomox Plus MFB
10. Outline Dub
11. Opus Quod Acidum
12. Morf
13. '14 Tepéca
14. Power Remains