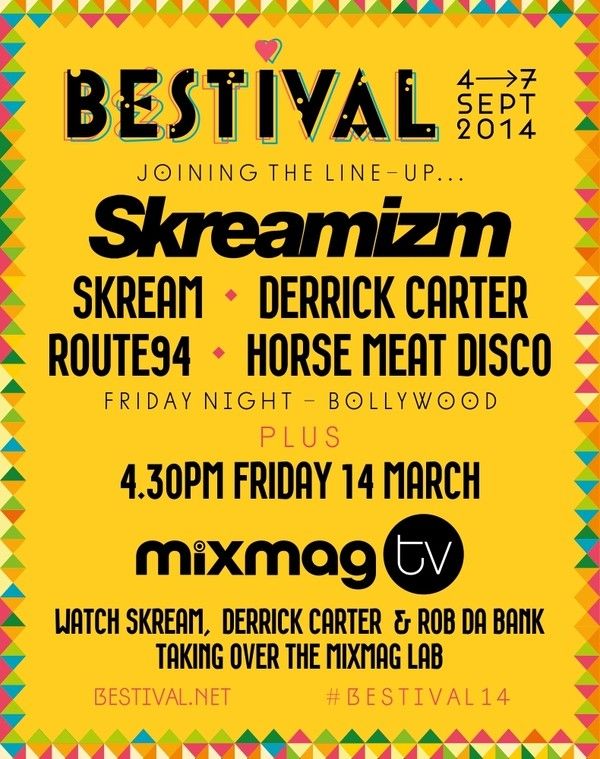 Screamizm announced for Bestival 2014
With the coolest congregation of castaways ever at one party, September 4th – 7th will see Robin Hill bouncing to irresistible energy from OutKast, Foals, Chic Featuring Nile Rodgers, Beck, Busta Rhymes, Disclosure, Basement Jaxx, Major Lazer, Sven Väth, Annie Mac Presents, Chase & Status (DJ set), Eats Everything and many, many more. But you know we haven't finished yet, not even close. The line-up keeps on getting better and better and to prove it here's news of more shipwrecked mates joining our shorefront shenanigans, and also of a very special edition of Mixmag's The Lab this coming Friday!
Skream says: "I'm extremely proud/excited/over the moon to be able to say I'm hosting a tent at Bestival this year! I've been playing at Bestival for the last 4/5 years (I think), and to be able to say I took Skreamizm there, I'll die a happy man!"

Taking it back to the source, Skreamizm is all about ace tunes on fat soundsystems, like it should be. Bringing the unmistakably ecstatic vibes of funky little sweatboxes where the real action is, we're over the moon that Skreamizm is coming to blow away Bollywood at Bestival on Friday 5th September. Blazing his own trail, Skream, AKA Oliver Jones', recent Rollercoaster joint smashed disco into the future, so it's more than fitting that he will be adding his own inimitable style to our Desert Island Disco.
Also adding his not inconsiderable presence to Skreamizm at Bestival is Chicago house leviathan Derrick Carter! Quite simply one of the greats, Derrick Carter's sets are as edifying as they are electrifying, taking in underground house, soul, jazz and, of course, disco. His own 'Derrick Carter Does Disco' sessions have had dancefloor aficionados and those in the know begging for more, so this rare treat, as Derrick joins Skreamizm to dig deep into his crate of disco classics, makes it a total honour for us to welcome him back to Bestival.
Completing the Skreamizm line-up at Bestival will be current UK singles chart number 1, Route94 who has long enjoyed support from Skream, and knows his way around a massive banger or two and long-time Bestival party favourites Horse Meat Disco who will pump pure joy out of the soundsystem and into your bones.
If, like us, you think that sounds amazing and can't wait until September for some cheeky disco manoeuvres you'll be very pleased to hear that this Friday March 14th Bestival will be having a special office rave-up bringing Skreamizm at Bestival to Mixmag's Lab. Getting the weekend under starters orders, the live stream which runs from 4:30-6:30pm (GMT) will feature booty shaking sets from Skream, Derrick Carter and Bestival chief Rob da Bank. So don't miss out and head to Mixmag at 4:30pm on Friday to stream the party.
Get ready for the DISCO – www.Bestival.net / Facebook / Twitter / Instagram / Tumblr

BESTIVAL TICKET LINKS & INFORMATION:
www.ticketline.co.uk/bestival-tickets / 0844 888 4410
Adult Ticket with entry from Thursday 4th September – £195
Student Ticket with entry from Thursday 4th September – £180
(For full-time students only. Valid NUS or ISIC ID required at the box office. No other student ID accepted)
Teen (age 13-17) Ticket with entry from Thursday 4th September – £127
Child (age 12 & under) Ticket – Free (but you must obtain a ticket)
Caravan Tickets: £101 (per vehicle) Campervan Tickets: £90 (per vehicle)
Advance Car Parking – £15
All Tickets:
– will incur a booking fee.
– there are no Day Tickets.
– incur a £1 donation to the Isle Of Wight Youth Trust*.
THE WEEKLY PAYMENT PLAN:
We're pleased to say that we are once again offering a 20-week payment plan which means that an adult ticket can now be bought at a payment of £9.75 per week over 20 weekly payments.
Only available online via: www.ticketline.co.uk/bestival-tickets
Once you have signed up to the payment plan, which basically means giving your agreement by ticking the bank mandate form on Ticketline's website, Ticketline will automatically debit your card on a weekly basis. They only accept Visa (credit or debit) or Mastercard for the payment plan.
NB: Booking fees will be charged with your initial transaction.
THE ISLE OF WIGHT YOUTH TRUST CHARITY DONATION
*This year we are adding on a £1 charity donation onto all Bestival tickets. The money raised will go directly to the Isle Of Wight Youth Trust (Reg Charity no. 1087163) to help fund their fantastic work offering counselling and support to young people aged 25 and under on the Isle of Wight. The Bestival Foundation is also a proud supporter of the Youth Trust.
Travel: Book Now For Best Early Prices
Wightlink – www.wightlink.co.uk/bestival / 0871 376 1000
Red Funnel – www.redfunnel.co.uk/bestival / 0844 844 9988
Hovertravel – www.hovertravel.co.uk/bestival2014 / 01983 811000
Big Green Coach – www.biggreencoach.co.uk/bestival
www.bestival.net / www.facebook.com/bestivalfestival / Twitter: @bestival