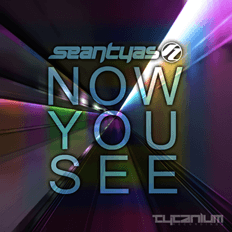 Sean Tyas – Now You See
With the year coming to a quick close, trance heavyweight Sean Tyas is set to put the world on hold with the release of one more pulsating single, "Now You See" [Tytanium Recordings]. Destined to be a fan favorite and future trance classic, "Now You See" has a vibe reminiscent of Tyas' early discography, along the likes of past hits "Banshee," and his breakout single, "Lift."

The eight minute true-to-trance track begins with a rapid fire bassline with a 2014 edge. Quickly yet smoothly, intricate piano melodies elegantly laced with emotion soon take center stage, reminding fans why Sean Tyas has become one of the most decorated names in trance music.

Though "Now You See" doesn't release till Christmas, the full remix pack of Tyas' recent collaboration with Noah Neiman and Fisher, "Lose My Logic" is now available on Black Hole Recordings. The trio's well-received tune peaked at #4 [Beatport Trance Chart] a few weeks ago and held on strong, while rave reviews from EARMILK, LessThan3, Magnetic Mag, VIBE, EDMtunes, and Mixmag poured in. The smash hit single makes a triumphant return with a rework by Tyas & Neiman (dubbed the "Melodic Mix") which features a different melodic feel, yet maintains the powerful punch from the original mix. The second mix features intense anthem-like chords courtesy of Tomas Heredia, one of Argentina's most talented up & coming producers. Tomas' remix debuted in great fanfare on A State of Trance two weeks ago and has received support across the board.