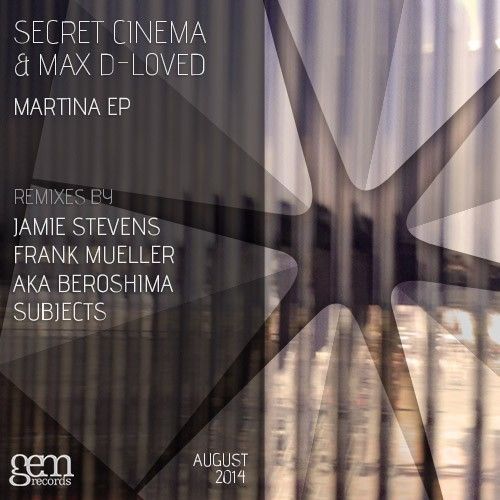 Secret Cinema & Max D-Loved – Martina
Secret Cinema and Max D-Loved team up for their second release together. Both producers are known for their original and unique yet effective tracks. Their first collaboration 'Wow Cat' came down like a bomb on Sian's Octopus Recordings. Now they follow up with a powerful warm melodic festival anthem called 'Martina' on Gem Records. Jamie Stevens, Frank Mueller AKA Beroshima and Subjects deliver remixes that cover the spectrum from laid back to full on techno.
All the elements of the original by the Dutch / Italian duo sound gentle and soft on their own. But put together they make for an energetic tune. The rolling bassline seems to buzz around your head in a three dimensional space leaving lots of room for the big and powerful kick drum. Time-stretched vocals echo mysteriously in the background creating a surreal atmosphere. The lead keys sound warm and playful whilst the percussion and hats give the track its momentum and energy. This is just one of those blissful soundtracks for a beautiful day…
Jamie Stevens is known for his amazing melodic techno tracks and his remix of Martina is another perfect example. Our Ozzie mate takes a more hypnotic and driving approach to the track. Letting it build up slowly into a driving dance floor track with an amazing thumping bassline. Subjects, consisting of Max D-Loved and Jeffry Hide, take a similar approach but turn it into full on 3 AM mayhem with a bad-ass kick drum!
Finally, Frank Mueller the man also known as Beroshima takes the track to a deeper level. Utilising almost all of the elements from the original but reconstructing them as a much more laid back almost housey track. Seriously mellow!
Snatch it up from August 11th!