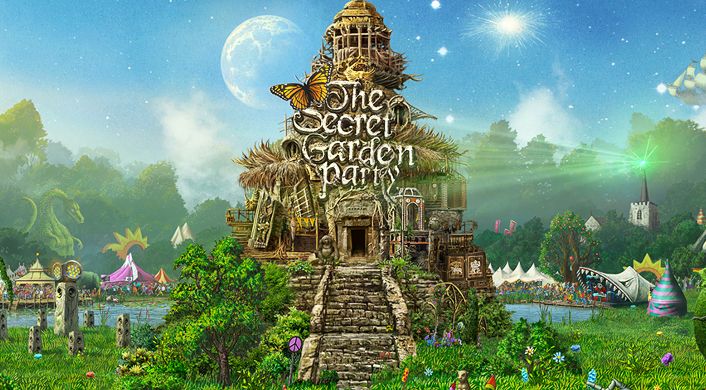 Secret Garden Party announces theme for 2017
Fame, celebrity, a media that obsesses over both and huge business that sells us access to, and relics of, them: the one thing that's clear is we have ourselves a new religion… of sorts. But this is a doctrine that offers us a troubling vision of Heaven on Earth; a room, full of our idols, guarded behind doors, with a strict entry criteria…

So, in this Strictly X Factor Love Island I'm a Kardashian #get-me-out-of-here social, instant, online world; what should we do? How much do we embrace this idea of the universal right to fame and, if we do, should we all start immediately baking, blogging, dancing, cooking, singing and redecorating our little hearts out, to get 'there'? You know that place down the red carpet and behind the velvet rope…

Well this summer the Secret Garden Party invites you to join it 'there' and finally find out if it's anywhere we want to be.
In the tradition of the bacchanals, we will satiate this worldly distraction to the point we can break free from it – to finally gain a true perspective. And in doing so, set a new, true precedent. So we're donning our finest threads and polishing up like never before for the biggest VIP LOL-off you've ever seen. Where everyone likes / follows / adores you, the bouncers all know your name and the Sweet Dreams are made by You…

AIF Conference, Cardiff last night….SGP wins award for 'Act of Independence'.
Whether channelled through its distinctive themes or its confrontation of social issues, Secret Garden Party's ethos and spirit of independence has always been to encourage a free-thinking and forward-thinking community. So organisers are genuinely gratified to receive recognition for this pioneering work on drug testing – the first public testing facility in the UK.

Freddie Fellowes founder of Secret Garden Party, along with Steve Rolles from the Transform Drug Policy Foundation and Fiona Measham, Professor of Criminology at Durham University and director of The Loop ( a not-for-profit service for drug and alcohol harm reduction) last night were presented with the Association of Independent Festivals' 'Act of Independence' gong at the AIF awards ceremony for spearheading the first UK public drug-testing scheme at last summer's Secret Garden Party – a service approved by Cambridge Police and local health authorities – where people could have their drugs tested for safety on site.

Paul Reed, General Manager of the AIF said:
"There was a very strong shortlist for the inaugural 'Act of Independence' award and the result is some well -deserved recognition for an initiative that was both preventative and proactive, focusing on harm reduction, promoting safer drug use and helping people to make informed choices. It was achieved following years of hard work behind the scenes engaging the various agencies involved so congratulation to Secret Garden Party and The Loop for their perseverance and pioneering work in this area. We hope to see MAST testing become rapidly widespread at festivals, and AIF are working closely with The Loop and the organisers of Secret Garden Party to develop best practice and national guidelines for drug use and health and safety services at festivals"

Art Applications now open:
SGP is calling out for next year's creative wonders. Since launching the Grants Programme in the Garden, there's been an explosion of creative work adorning the site with imaginative installations year on year. Now SGP is on the hunt for the new and spectacular, theme-inspired pieces for 2017. Artists, Designers & the wildly creative, be a part of this credible arts collective. With commissions, grants and development funds available contact: [email protected]

HG's Theme Playlist:
http://bit.ly/SGP17spotify
Tickets for Secret Garden Party 2017 are now on sale at: http://tkt.to/sgp2017