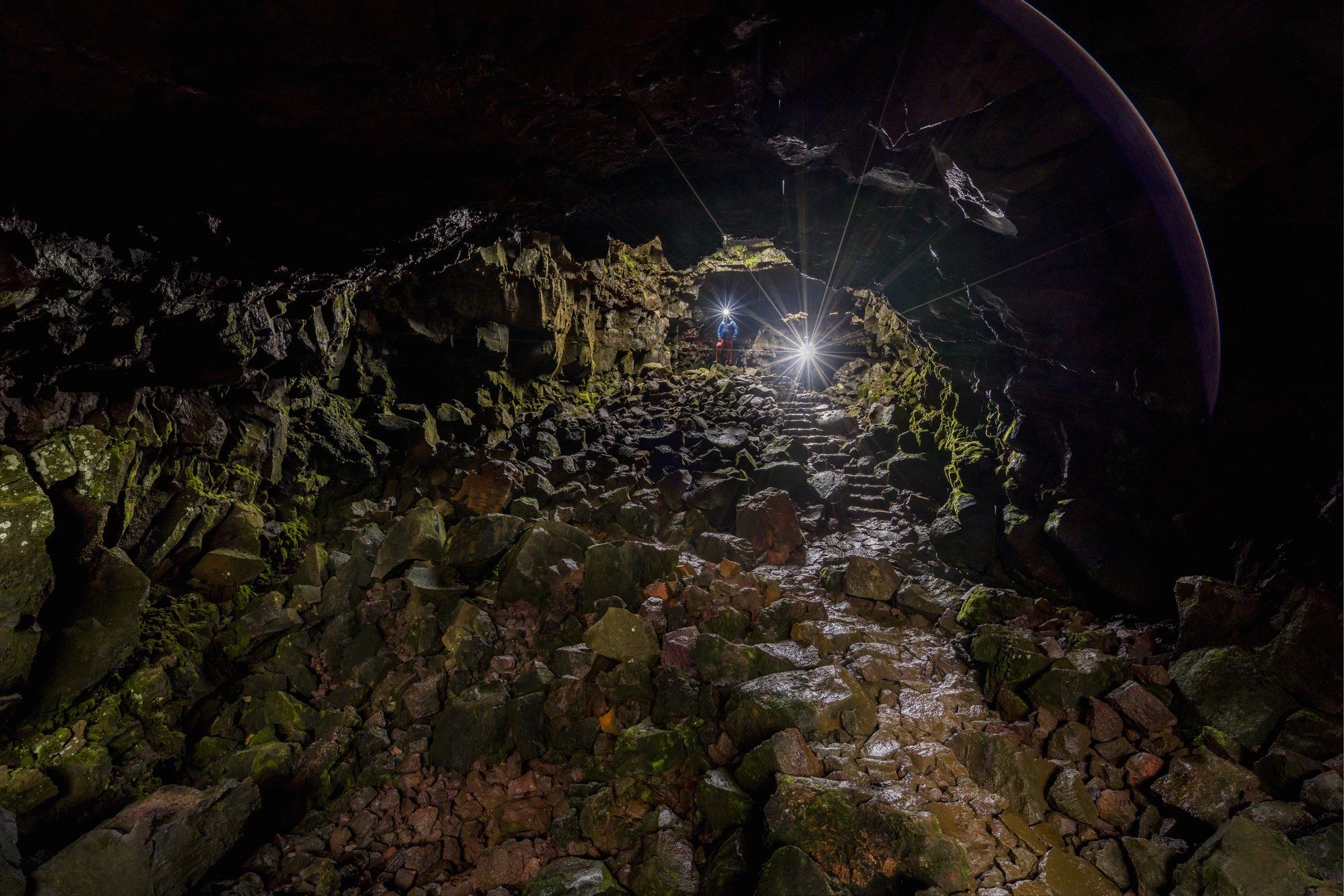 Secret Solstice Adds Concert In 5000+ Year-old Underground Lava Tunnel
Iceland's Secret Solstice festival has many reasons to be called the most unique festival on the planet, having garnered that title in one form or another by several news outlets around the world.

And it's not hard to see why. With extreme side events including the world's only party inside a glacier (the second biggest in Europe, no less), the chance to adventure around some of the country's spectacular scenery just a stone's throw from the festival site, and a 2017 lineup featuring the likes of Foo Fighters, The Prodigy, Rick Ross, Big Sean, Chaka Khan, Seth Troxler, Kerri Chandler, Richard Ashcroft and many more, guests are well catered to.

But for foreigners making the trek to Reykjavík for Secret Solstice, it's definitely the fabled "Midnight Sun" that has generated the most palpable sense of wonder. Due to Iceland's close proximity to the Arctic, the sun never sets during the summer solstice weekend when the festival is held, meaning guests experience never-ending daylight for the entirety of the event.

Obviously, much of Secret Solstice's acclaim has been as a result of their utilisation of the Icelandic setting as is the case with their side events, though most would be surprised it goes far beyond simply using nature for event spaces.

The North Atlantic island nation uses the very power of the planet itself, with the abundant volcanic activity being used to generate the renewable geothermal energy that powers almost the entire country. It's this power that provides all on-site energy needs for Secret Solstice, which is one of the reasons the event was very easily able to achieve carbon neutral status, something it's held for two consecutive years now.

Secret Solstice festival director Fred Olafsson further elaborated more on the event's green initiatives, "we try to lessen the impact of Secret Solstice in all areas, whether it's partnering up with other carbon neutral brands like Icelandic Glacial water, or working with Toyota Iceland who provide us with hybrid vehicles."

Since launching them in their first year of 2014 Secret Solstice has always been known for their special side events, including the already-announced Midnight Sun Boat Party, as well as their ultra-special Secret Solstice presents Into The Glacier events. Presented by brands liken Ministry of Sound, Red Bull and 66ºNorth, both are [on sale now]. However, as has become tradition for the Icelandic music festival, they're adding a brand new music-driven nature adventure to this year's calendar.
Secret Solstice presents The Lava Tunnel will be two exclusive events underground within natural lava tubes that form natural subterranean arteries. These amazing snaking chambers will become host to two an acoustic performances by a prominent Icelandic artist, that'll be witnessed on June 17th and 18th by a small handful of guests.

The location – Iceland's Raufarholshellir lava tunnels – was formed over 5,000 years ago during a volcanic eruption, and has left a mark on the landscape that's lasted throughout the centuries. And it's sure to leave a mark on the excluisve audience of 50 people who are lucky enough to secure tickets for each show, which have [just gone on sale] to the general public.

Although seen by many as remote, Iceland is easier to get to now than ever before, especially for this year's Secret Solstice. In partnership with airline WOW air, Secret Solstice are offering all-in package deals from North America and Europe including flights, accommodation, and a festival pass starting at only $618 USD from some cities. Even better, by using the codes "wowairhotel" and "wowaircamp" (depending on what accommodation you're choosing to go with) at checkout, early buyers will receive 20% and 25% respectively, while these limited deals are available. Destinations from Europe include London, Paris, Amsterdam, Barcelona, Dublin, Bristol, Frankfurt and many more.

Those planning on heading to Iceland for Secret Solstice's fourth edition between the of June 16th -18th, 2017 can book now via [Eventbrite] or [Tix] starting at 24,900kr (approx. £183/€210/$224) for a full festival 3-day event pass or purchase the aforementioned package deals [via the festival's website].

Whether it's the lineup, setting in the world's most northerly capital city, Iceland's stunning nature, 72 hours of never-ending daylight, or spectacular event experiences you can't find anywhere else, Iceland's Secret Solstice is yet again sure to keep its title of the most unique festival on the planet in 2017.
Secret Solstice's full 2017 lineup as it stands can be found below, including all newly-announced names:

Foo Fighters
The Prodigy
Rick Ross
Big Sean
Chaka Khan
Richard Ashcroft
Anderson .Paak & The Free Nationals
Young M.A
Rhye
Seth Troxler
Unknown Mortal Orchestra
Pharoahe Monch
Roots Manuva
Foreign Beggars
Kerri Chandler
Dubfire
Ata Kak
Dusky
Youngr
Högni
Kiasmos
Gísli Pálmi
Úlfur Úlfur
Soul Clap
John Acquaviva
Wolf + Lamb
The Black Madonna
The Vintage Caravan
Amabadama
Emmsjé Gauti
Thugfucker
Lane 8
Tania Vulcano
Left Brain
Artwork
Princess Nokia
Tay Grin
Gibbs Collective
Maxxi Soundsystem
Droog
Yotto
SHADED
Cubicolor
Ocean Wisdom
Novelist
Cymande
Ragga Gröndal
Jam Baxter
Nick Monaco
Soffía Björg
DJ RD
Klose One
BenSol
Vaginaboys
Shades of Reykjavík
Tiny
GKR
Aron Can
Dave
Jimmy Maheras
Glacier Mafia
DJ Sammy B-Side
Þórunn Antonía
Lord Pusswhip
Rix
Krysko & Greg Lord
Kinda Super Disco
Alexander Jarl
Fræbbblarnir
Valby Bræður
Teitur Magnússon
Védís Hervör
French Toast
Hildur
KSF
Alvia Islandia
Kristmundur Axel
Bootlegs
Since When
SXSXSX
JoaqoPelli
Fox Train Safari
Kilo
Captain Syrup
Marteinn
KrBear
SkrattarMogesen
Rob Shields
AFK
Seint
Holy Hrafn
M e g e n
DJ Baby Mama Drama
More to be announced!