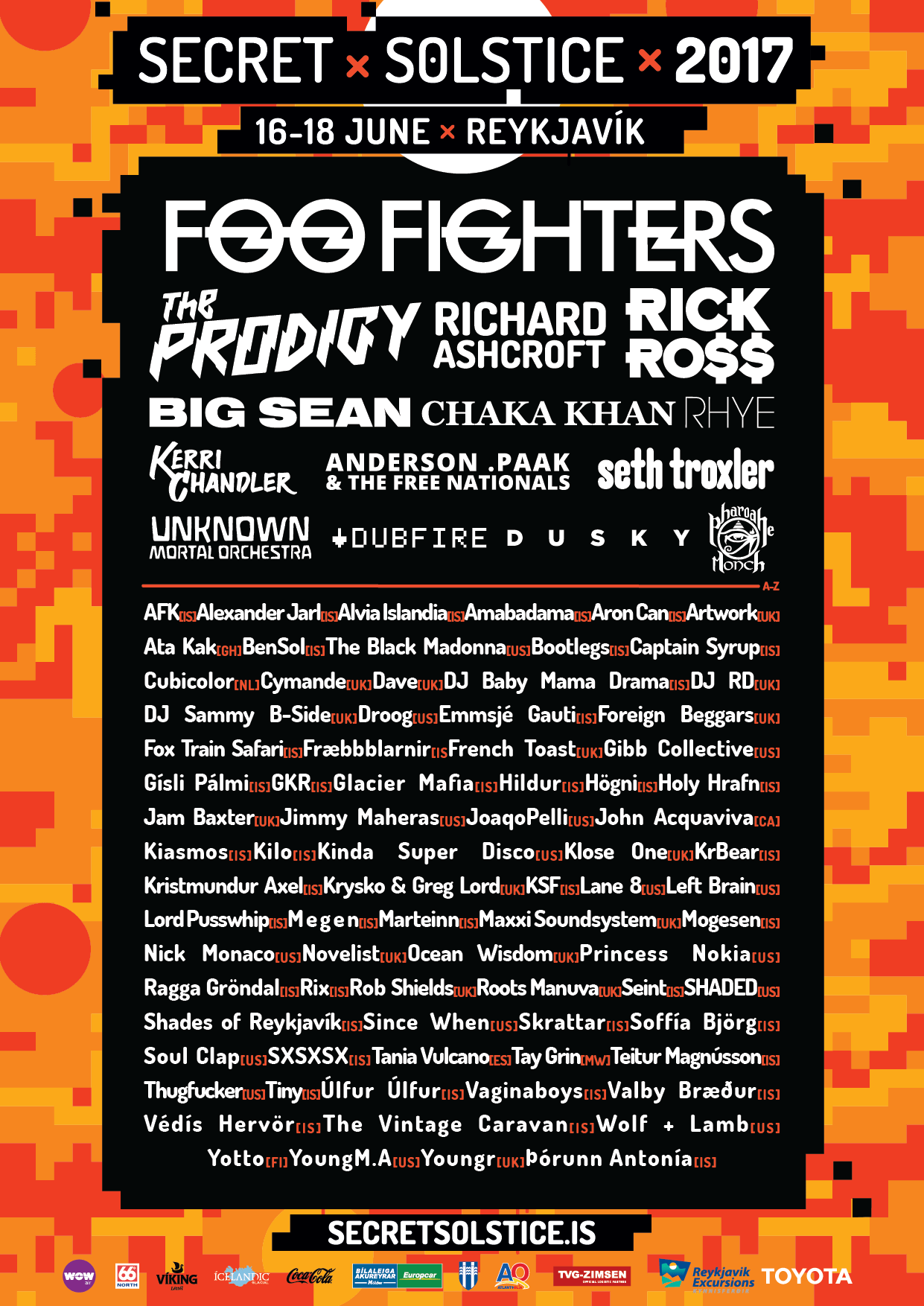 Secret Solstice announce second wave of artists for 2017
Featuring unending daylight provided by the never-setting summer solstice sun, side events including the world's only party inside a glacier, as well as some of the planet's biggest names in music, Iceland's Secret Solstice festival already feels like the summer event of 2017.

Situated in the world's most northerly capital city of Reykjavík, and happening at a time when the sun never fully sets, the event has just announced their second phase line-up, adding to their already revealed names including Foo Fighters, The Prodigy, Richard Ashcroft, Dubfire, and many more.
Featuring some of the hottest names in hip-hop, the new lineup features Rick Ross, Big Sean, Young M.A, Roots Manuva, and recent two-time Grammy nominee Anderson Paak, along with his band the Free Nationals. Also added to the hip-hop part of the bill is Odd Future member Left Brain, viral star Princess Nokia, and young British rap talent Ocean Wisdom.
Dance lovers are also in for a celebration, new names flying to Iceland from abroad include Seth Troxler, The Black Madonna, Lane 8, and Cubicolor being added to previous names like Dubfire, Kerri Chandler, Soul Clap, Wolf + Lamb, Dusky, as well as Iceland's own kings of electronica, Kiasmos.

On the local front, the Icelandic contingent of artists has been bolstered, featuring rockers The Vintage Caravan, the island's biggest name in rap Gísli Pálmi, and other local names including Ragga Gröndal, Vaginaboys, Valby Bræður, and more.

And finally, with an estimated 20 million album sales, and known globally for immense hits including "Ain't Nobody" and "I'm Every Woman", Queen Of Funk Chaka Khan has also been added to Secret Solstice's 2017 lineup.
Secret Solstice's incredible side events are now also on sale to people travelling to the Icelandic music festival, with only 180 tickets in total available to their Midnight Sun Boat Party available for 14,900kr (approx. £111/€130/$138), and only 125 tickets to each of the event's Secret Solstice presents Into The Glacier parties on sale at 49,900kr (approx. £373/€437/$463) while they last.

Secret Solstice has also just announced heavily-discounted package deals in partnership with their airline partner WOW air, including flights, accommodation, and festival passes bundled together with massive discounts off booking individually. Available until limited numbers are sold out, buyers can use the code "wowairhotel" for 20% off hotel packages, and "wowaircamp" for 25% off camping packages. Destinations from Europe include London, Paris, Amsterdam, Barcelona, Dublin, Bristol, Frankfurt and many more.

Tickets to Secret Solstice's fourth edition are on sale now via official ticketing partners Tix.is and Eventbrite from 21,900kr (approx £164 / $192 / €203) for a full 3-day event pass, with accommodation and ticket packages available HERE
Secret Solstice's full 2017 lineup as it stands can be found below, including all newly-announced names:

Foo Fighters
The Prodigy
Rick Ross
Big Sean
Chaka Khan
Richard Ashcroft
Anderson .Paak & The Free Nationals
Young M.A
Rhye
Seth Troxler
Unknown Mortal Orchestra
Pharoahe Monch
Roots Manuva
Foreign Beggars
Kerri Chandler
Dubfire
Ata Kak
Dusky
Youngr
Högni
Kiasmos
Gísli Pálmi
Úlfur Úlfur
Soul Clap
John Acquaviva
Wolf + Lamb
The Black Madonna
The Vintage Caravan
Amabadama
Emmsjé Gauti
Thugfucker
Lane 8
Tania Vulcano
Left Brain
Artwork
Princess Nokia
Tay Grin
Gibbs Collective
Maxxi Soundsystem
Droog
Yotto
SHADED
Cubicolor
Ocean Wisdom
Novelist
Cymande
Ragga Gröndal
Jam Baxter
Nick Monaco
Soffía Björg
DJ RD
Klose One
BenSol
Vaginaboys
Shades of Reykjavík
Tiny
GKR
Aron Can
Dave
Jimmy Maheras
Glacier Mafia
DJ Sammy B-Side
Þórunn Antonía
Lord Pusswhip
Rix
Krysko & Greg Lord
Kinda Super Disco
Alexander Jarl
Fræbbblarnir
Valby Bræður
Teitur Magnússon
Védís Hervör
French Toast
Hildur
KSF
Alvia Islandia
Kristmundur Axel
Bootlegs
Since When
SXSXSX
JoaqoPelli
Fox Train Safari
Kilo
Captain Syrup
Marteinn
KrBear
SkrattarMogesen
Rob Shields
AFK
Seint
Holy Hrafn
M e g e n
DJ Baby Mama Drama
More to be announced!