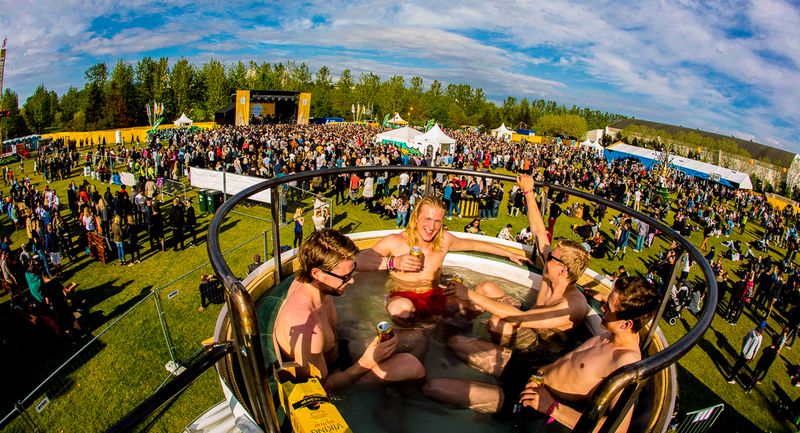 SECRET SOLSTICE FESTIVAL IN REYKJAVIK, ICELAND
The third annual Secret Solstice Festival will take place in Iceland on June 17-19, 2016. Set during the summer solstice weekend, the sun never sets over the entire festival weekend, bathing the city of Reykjavík and revelers in perpetual daylight for 72 hours straight for the "most unique festival on Earth."
Come experience a stellar musical lineup against the backdrop of Iceland's stunning natural beauty and explore the rugged Nordic landscape with "midnight sun" cruises, geothermal pool parties, and the world's only party inside a glacier. This is a festival destination like no other for all music lovers and adventure seekers.
The initial lineup announcement includes Iceland's own Of Monsters and Men returning to perform in the midnight sun. They are joined by Kerri Chandler, Deetron, Amabadama, Högni Egilsson, and Lady Leshurr, with over a hundred more artists to be announced.
Besides the stellar musical lineup it's the unique concept of the event and location that draws flocks of international festival-goers to Iceland the last two years for Secret Solstice festival. In addition to the main festival event there will be a host of side parties that Secret Solstice will be building on from their previous success and brought back by popular demand. Guests will be able to sail out into the Atlantic Ocean for "Midnight Sun" boat parties while the sun is still up after midnight, enjoy DJ sets while chilling out in a volcano-powered geothermal pool, among other yet-to-be-announced add-on events.
Last year, Secret Solstice festival was the first event on the planet to host a party inside a glacier. This year they've doubled down with two ultra-exclusive Into The Glacier parties inside the Langjökull glacier, the second largest in Iceland and Europe. Journey inside a mile-long tunnel carved from 10,000 year-old ice to experience a once-in-a-lifetime party in the world's largest man-made ice cave. Each event will have a slightly different vibe, a DJ set by a world-famous electronic act on Saturday, June 18, and an acoustic set by a prominent Icelandic artist on Sunday, June 19. Only 100 tickets are available for each intimate show and both are expected to sell out.
Start planning now for the festival experience of a lifetime. Over a dozen airlines now fly direct to Iceland from North America and Europe for easy access. The festival is also conveniently located in the center of Reykjavík city within walking distance to all major hotels, hostels, and Airbnb accommodations. For more info on travel packages, go here.
Limited earlybird tickets are available now while supplies last at 15,900kr (approx $126 USD). For those wanting to stay as close as possible to the action, camping is available for just 9,900kr (approx. $76 USD).
In total over 125 acts will be announced for 2016, with the first official lineup announcement below. Watch the Secret Solstice 2016 – First Lineup Announcement below.
Secret Solstice First Lineup Announcement
OF
MONSTERS AND MEN
KERRI
CHANDLER
DEETRON
HÖGNI EGILSSON
AMABADAMA
LADY LESHURR
BENOIT & SERGIO
MAXXI SOUNDSYSTEM
DROOG
WILL SAUL
YOUANDEWAN
VOYEUR
STEPHANE GHENACIA
HERRA HNETUSMJÖR
GLOWIE
AXEL FLÓVENT
LILY THE KID
LILY
OF THE VALLEY
More to be announced!

Stay connected with Secret Solstice!
www.secretsolstice.is
http://fb.com/secretsolstice
www.instagram.com/secretsolstice
www.twitter.com/secret_solstice
www.youtube.com/SecretSolsticeHQ
SNAPCHAT: SecretSolstice