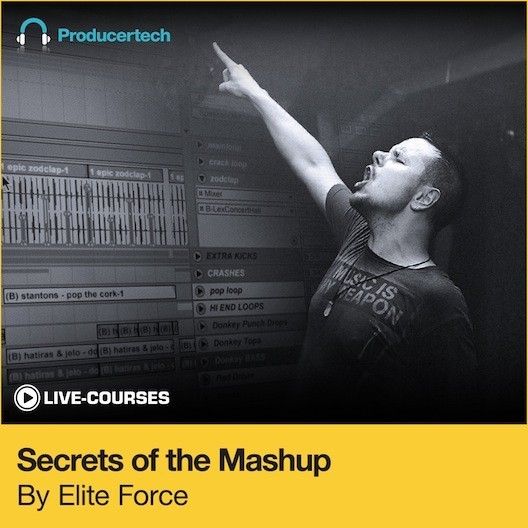 Secrets Of The Mashup By Elite Force
Since 1996, Simon Shackleton has been producing and DJing across the globe as Elite Force. Famed for both his technical prowess and exceptional creative capacity, he has received support from legendary DJs like Sasha and Fatboy Slim. A regular performer at festivals such as Burning Man, Glastonbury and at massive shows in every corner of the world, he is also widely considered as one of the proponents of the Tech-Funk genre, fusing House, Breaks, Electro and Techno. As such, Producertech are thrilled to announce the release of 'Secrets of the Mashup', a course that concentrates his methodologies and approach to revamping tracks in to a series of video tutorials. More than two hours of lessons will give you an insight into how this remixing master created his mix of M.A.D. (with Hatiras, Jelo, Stanton Warriors & Vandal), featured on his 2010 'Revamped' album.
Elite Force starts by giving you a breakdown of his approach to revamping a track, including commentary about how he selects loops and samples, the standard processing he applies to prepare them for mixing and how he avoids pitfalls that might otherwise hold back your creativity. He then proceeds to reverse engineer M.A.D. However, this is not simply a technical demonstration – throughout the course the methods he utilises are dissected so you can understand not just how he works, but also the 'why?', which is fundamental to his ability to put together such vibrant and memorable mixes.
Covering creating hypnotic drums, incorporating fills and hooks from other tracks, transitions and breakdowns, Elite Force shows his use of EQ, Compression (including his approach to processing different frequencies from one sample), FX (including reverb and delay) as was well as his utilisation of the stereo field to create an incredibly fluid sonic landscape for the listener. By the end of the course you will have learnt how one of the most respected producers around uses these methods, as he imparts information to you in his clear and concise manner alongside real-time demonstrations of these sophisticated techniques.
Alongside the two hours of video tutorials, the course also includes a 100MB bonus pack of samples courtesy of Loopmasters and the track M.A.D. For additional guidance on the techniques demonstrated, or to share your own tips and tricks, you can visit the Producertech forum where you can receive feedback and advice from other students and Producertech tutors. The course is available to access 24/7/365 and can be watched and re-watched as many times as required, until everything sinks in.
Visit the course page for more information and to listen to the track: http://goo.gl/YLJD5h