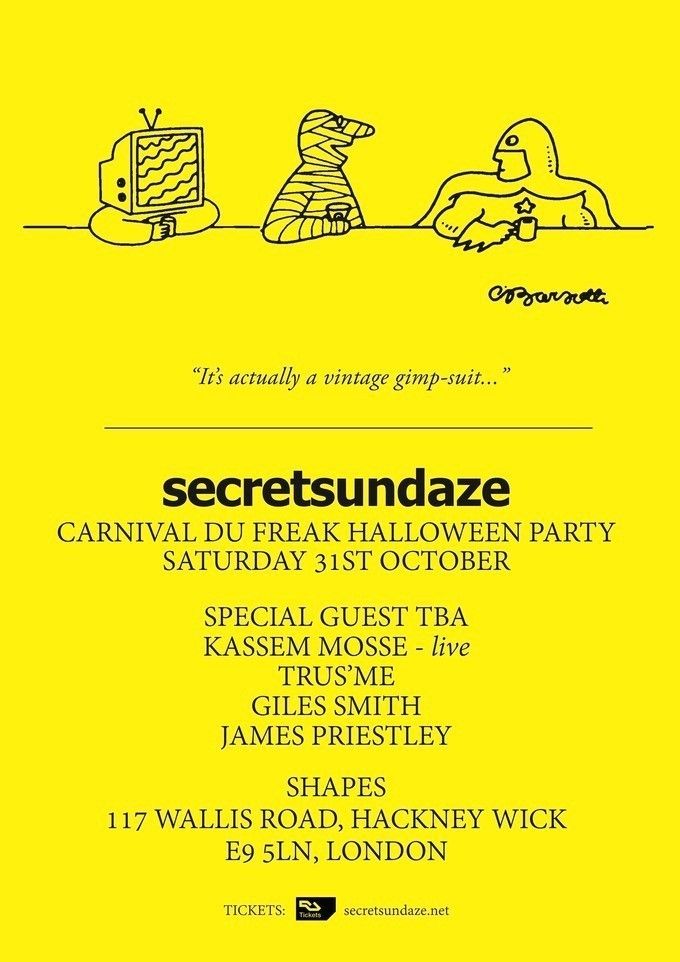 secretsundaze 'Carnival du Freak' Halloween Party
In just a few months time we'll find ourselves dancing in costume side by side with ghouls and strange creatures from the night….yes Halloween is upon us again. This year, secretsundaze will be taking over the wonderful warehouse space in Hackney Wick known as Shapes and inviting guests to come dressed for the party with this year's theme of 'Carnival Du Freak'. Think weird, wonderful, curious and a little bit freaky…..bearded ladies, weird clowns, mummies, use your imagination.
Headlining the party is Chicago's The Black Madonna. A major breakthrough artists in 2014/2015, she is known for her great DJ sets, strong views on the importance of women in house music and of course her role as artistic director of The Smart Bar in Chicago. Her sound naturally nod's to her Chi – town roots but like all great DJs she isn't restricted by that and her sets romp though disco, Italo, house and techno all served up with great gusto. She has also released some great music through the likes of Stripped and Chewed, Argot and The Night Owl Diner.
Kassem Mosse will also bring one of his standout live sets to secretsundaze. Mosse's music and appearances are always talked about in hushed tones. Both his subtle music and his persona portray a shadowy, shy figure that prefers to let the music speak for itself. His raw analogue sound, gracing iconic labels like Workshop, The Trilogy Tapes and FXHE, is exquisite and other worldly – the perfect tonic for Halloween!
secretsundaze are also happy to welcome back Trus'me. Owner of the excellent Prime Numbers imprint, Trus'me burst onto the scene 10 years back with his sample heavy soulful LP 'Working Nights' that was, for many, one of the LPs of the year. Since then he has gone on to experiment with different sounds, including a far more muscular technoey sound, although he now seems to have found a happy medium between the two house and techno styles. He is a fantastic DJ and a close friend of secretsundaze.
secretsundaze residents Giles Smith and James Priestley will of course be on duty to keep the fires burning throughout this special evening and ensure all the freaks are kept in check. You have been warned!
All in all, another unmissable secretsundaze party with a killer line-up, a fantastic venue and a theme the freaks of Halloween are sure to embrace.