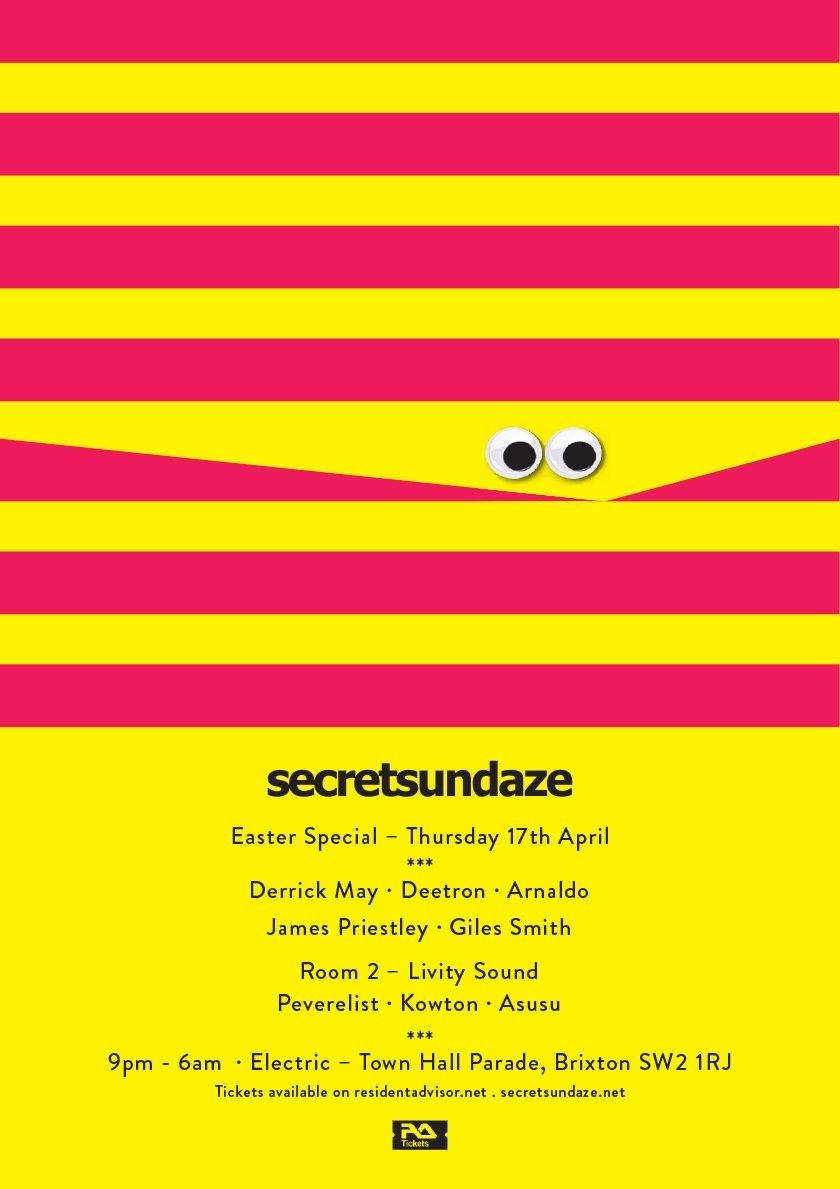 Secretsundaze Easter Special with Derrick May, Deetron & Livity Sound at Electric Brixton
Line-up
Derrick May
Deetron
Livity Sound – Peverelist, Kowton, Asusu
Arnaldo
James Priestley
Giles Smith
*******************
First Party of 2014
Secretsundaze, the original East London house and techno innovators, party collective and record label go from strength-to-strength as they announce their first party of their 13th season in London, at Electric, Brixton on Easter Thursday.
Kicking things off in style, the party returns to South London for their annual Easter Special at Electric. After sell out shows there with Nina Kraviz last Spring and Levon Vincent this NYE, they come with a typically heritage-meets-cutting-edge line-up that makes it a must go to event for any discerning house and techno fan alike.
*******************
Derrick May
Headlining the event is none other than Derrick May, Detroit innovator and famously part of the Belleville 3 alongside Juan Atkins and Kevin Saunderson. Spanning a career of decades and responsible for various classic productions along the way, Derrick is now most renowned for his prowess as a DJ and is a man still very much at the top of his game. Effortlessly combining a raw funk backbone with a smoother more hypnotic sensibility, his set for secretsundaze last year at the Opening Party at Studio 338 was the highlight of our summer so we cant wait to welcome him back, but this time, presenting him in a different scenario, as we witness the damage he can do in a packed theatre house with disco lights.
*******************
Deetron
Co-headlining is Swiss veteran Deetron, whose skills as both a producer and as a technically genius 3-turntable DJ, has earned him a unique position in the world of house and techno, fiercely independent, and not aligned to any particular crew or label. His stock has steadily risen and now, whilst inspiring a new generation of young artists along the way, is one of the most in-demand DJs out there. These skills can be heard on his highly rated Balance CD compilation and most recently his natural flair in the studio 'Music Over Matter', his second artist album. Many of Deetron's roots are in Detroit techno so he was our first choice to pair alongside Derrick May for an enticing US / European meeting of minds..
*******************
Arnaldo
As a 3rd guest in the main room we welcome rising star, Argentinian but London based Arnaldo, who has steadily been carving a reputation as one of a new wave of serious deep house artists emerging from the city. Playing only the coolest spots and often publishing his long live sets online to much acclaim from the heads, he is also more than handy in the studio, recording for esteemed labels such as Lawrence's Smallville and Blank Slate no less.
*******************
James Priestley & Giles Smith
As ever, secretsundaze founders James Priestley and Giles Smith will be on residential duties, warming up and rounding off proceedings as only they know how.
*******************
Livity Sound
Taking over Room 2 is one of favourite labels right now, Bristol based Livity Sound. The union of artists Peverelist, Kowton & Asusu is releasing some of the most forward thinking music out there, taking inspiration from dub, jungle and crucially techno. They are at the forefront of a new wave of UK labels exploring these crossroads. The results are formidable, rightfully earning them the highly respected accolade of Top Label of 2013 on Resident Advisor. Their string of vinyl only releases have been charted by some of the world's most adventurous DJs, but it was the Livity Sound CD compilation that has transcended them onto the lips of any UK electronic music lover worth their salt.
So with this typically jaw-dropping line-up to be held at the suitably grand setting of Electric, Brixton, the scene is set for another explosive start to the yearly secretsundaze calendar. Super early bird tickets are now on sale exclusively through Resident Advisor.