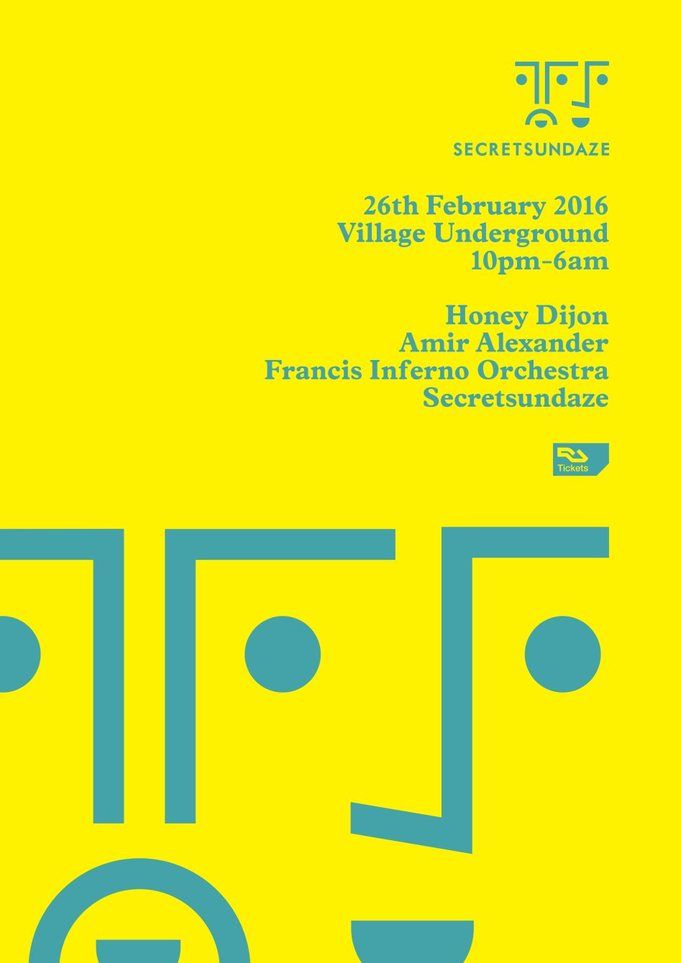 secretsundaze heads to Village Underground
On the 26th February secretsundaze head back to Village Underground with three guests that are very much all of a HOUSE persuasion – Honey Dijon, Amir Alexander and Francis Inferno Orchestra.
Born and raised in Chicago but living in NYC for the last 15 years, Honey Dijon has made quite a name for herself. Learning her trade back in the day in Chicago alongside her best friend Derrick Carter, her DJ skills and charisma behind the decks are second to none. 2015 was her best year yet, playing a series of dates at Panorama Bar and releasing 2 EP's on Classic records.
Second up, another Chicago born and raised artist, Amir Alexander. Amir is without doubt one of the hardest working men in house music, releasing regularly via his Vanguard Sound label alongside his buddies Chris Mitchell and DJ Spider. Very much part of new wave of artists from the Windy City, Amir has played for secretsundaze numerous times and of course released 'Don't Go' on the label in 2013.
The third and final guest is Francis Inferno Orchestra. Based in London but originally from Melbourne his productions join the dots between soul, disco and house. His LP 'A New Way of Living' on Voyeurhythm released last year got tongues wagging and keep your eyes peeled for his new label Superconscious which he runs alongside his friend Fantastic Man.
Resident duo Secretsundaze (Giles Smith & James Priestley) will open and close the party as always.

COMING UP
Saturday February 13th
secretsundaze all night long at The Pickle Factory
Saturday February 26th
secretsundaze at Village Underground w/ Honey Dijon, Amir Alexander, Francis Inferno Orchestra
Saturday March 12th
secretsundaze all night long at The Pickle Factory
Thursday March 24th
secretsundaze Easter Party at Village Underground w/ Ryan Elliot, K-HAND and Jane Fitz
Saturday April 9th
secretsundaze all night long at The Pickle Factory
Saturday April 30th
secretsundaze Summer Opening Party at St John's Church Hackney w/Lil Louis, Steffi, Kornel Kovaks, Moxie, K15, Esa
Saturday May 14th
secretsundaze all night long at The Pickle Factory
Sunday May 29th
secretsundaze at Oval Space and The Laundry w/ Patrice Scott, Shanti Celeste and more TBA
TICKETS
http://www.residentadvisor.net/promoter.aspx?id=22
CONNECT
http://secretsundaze.net
https://www.facebook.com/ssldn
https://twitter.com/secretsundaze
http://www.mixcloud.com/tag/secretsundaze
https://soundcloud.com/secretsundaze
http://instagram.com/secretsundaze