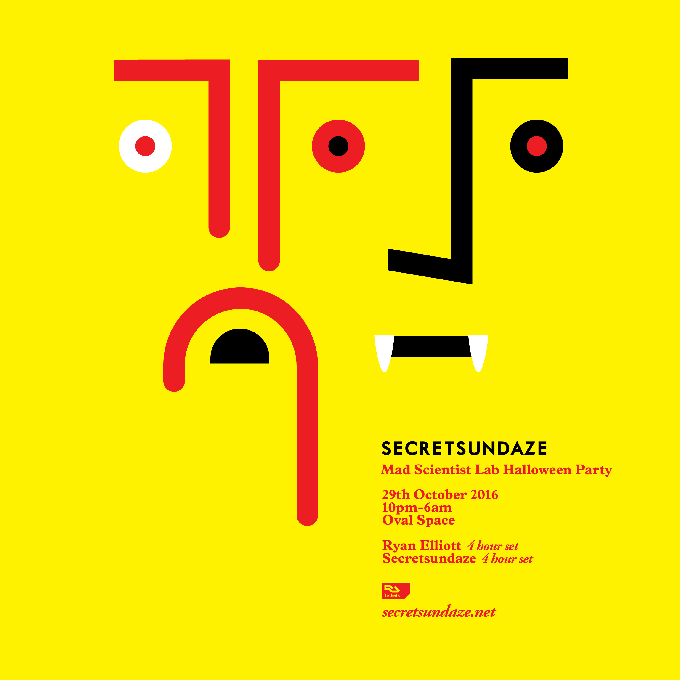 Secretsundaze Mad Scientist Lab Halloween Party with Ryan Elliott
Secretsundaze go from strength to strength in 2016, with their 15th year being one of their strongest years to date. After a hugely successful sell out birthday party just a week or so ago they can now reveal details of their annual Halloween party on Saturday 29th October.
Taking place at Oval Space, one of their favourite venues and home to the Halloween party twice in the last years, this year's theme is 'Mad Scientist Lab'. Think insane, eccentric and villainous. The ultimate personification of this might be Dr Victor Frankenstein himself conducting experiments that cross the boundaries that ought not to be crossed! Other references are zombified monsters, sexy nurses and science fiction characters. Production wise expect a full on laboratory assault with overflowing test tubes of highly toxic green potions, pickled brains and foetuses in jars and electrical currents running rife!
To soundtrack this special evening Secretsundaze have kept it pure and simple inviting just one special guest for an extended set to maintain the focus on musical flow as opposed to a long line up with many names. Ryan Elliott has played for Secretsundaze numerous times in the last few years both home and away and always brings the heat but this will be his first long set at the party. He is an exceptional DJ with official mixes for Fabric and Ostgut in the bag and he is one of the few residents at Berghain that plays on both the main floor and Panorama Bar. This made him the obvious choice for an extended 4 hour set covering the many shades of house and techno.
Secretsundaze will take care of the first 4 hours and are looking forward to another longer set in front of a home grown audience. The DJ duo have toured continually over the last 3 months worldwide, clocking up over 30 dates.
The Secretsundaze Halloween party has become a firm favourite in the calendar over the last few years with some amazing vibes. They hope you can join them for this special occasion. Tickets are available exclusively through Resident Advisor.
ALSO COMING UP
10.09 The Pickle Factory, London
23.09 La Terrrazza, Barcelona
30.09 Brilliant Corners, London
15.10 The Pickle Factory, London
29.10 TBA, London
12.11 The Pickle Factory, London
04.12 Panorama Bar, Berlin
31.12 Junk, Southampton
http://secretsundaze.net
Saturday 29 October 2016
22:00 – 06:00
Oval Space, 29-32 The Oval, Bethnal Green, London E2 9DT
Tickets from £9.50 + BF at Resident Advisor