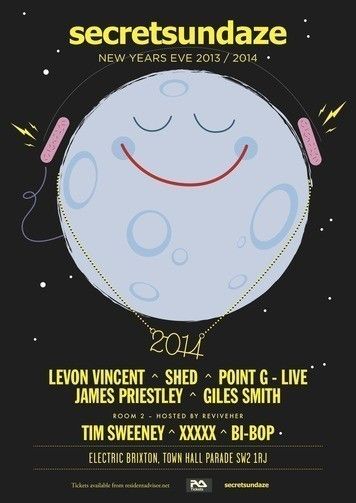 secretsundaze New Year's Eve 2013
After a fantastic summer season secretsundaze announces a storming New Year's Eve event featuring heavyweights Levon Vincent, Shed, Point G (live), James Priestley and Giles Smith in the main room, and in Room 2 ReviveHER presenting Tim Sweeney and Bi-Bop. And there's more still to come.
For New Year's Eve secretsundaze comes to Electric Brixton, scene of the sellout Easter show, and a fitting venue for a NYE extravaganza with its grand architecture, great facilities, excellent sound system and big party atmosphere.
In the main room secretsundaze invites Levon Vincent to head up proceedings. Hailing from NYC, Levon Vincent is one of the most important breakthrough house and techno artists in recent years and a firm favourite at secretsundaze. Each release on his vinyl-only Novel Sound imprint is hotly anticipated, with uncompromising sound design – and they sell like hot cakes. As a DJ he's equally impressive, and this NYE his third secretsundaze appearance. Evidence of his enviable DJ skills can be heard on his highly praised 'Fabric 63' release.
The second guest for secretsundaze NYE 2013 is Shed; somewhat of an enigma, hardly ever giving interviews and letting the music do the talking, his sound is powerful, raw and quite simply outstanding. He has released on Ostgut Ton, 50 Weapons and his own Wax or Power House imprints, and never fails to deliver. No one quite creates a kick drum like Shed. Playing his second secretsundaze event, his set promises to be super sharp.
The final main room guest is no newcomer, but an established artist under a new guise: DJ Gregory, one of France's most respected producers and DJs in the 1990s has now become Point G. His self-titled series of 12 inches released this year.

have been doing serious dancefloor damage: 'Baraka' was a huge hit at secretsundaze and worldwide, with DJs including Ricardo Villalobos regularly dishing it out all summer. This New Year's Eve secretsundaze proudly present Point G's debut live set in the UK. Do not miss the chance to catch his vibe.
The NYE main room guests will be ably bookmarked as ever by secretsundaze residents Giles Smith and James Priestley who have both toured wide and far this year, taking in gigs around the world.
In Room 2 secretsundaze hands the reigns to underground party starters, tastemakers and good friends ReviveHER. For the last four years ReviveHER has thrown parties across London in quirky venues from snooker halls to theatres, with a firm focus on quality music across the board. Having previously hosted DJ Nature, Prosumer and Vakula, ReviveHER is the perfect complement to the secretsundaze NYE experience. For this special occasion ReviveHER brings along NYC resident and Beats in Space host Tim Sweeney to lead Room 2. It's no understatement to refer to Tim Sweeney as an institution with his weekly radio show and heavy touring schedule – recent international guests on his show have included Ben UFO and Ron Morelli. A second guest for Room 2 will be announced soon so stay tuned. And, of course, ReviveHER resident Bi-Bop will be on hand keeping things toasty.
Another stand-out lineup from the forever musically on-point secretsundaze to look forward to this New Year's Eve. Come along to celebrate 2013 and bring in 2014.
secretsundaze New Year's Eve 2013 / 2014
December 31
10pm-8am
Electric Brixton
Town Hall Parade, London SW2 1RJ
www.facebook.com/events/611076222276188/
Levon Vincent | Shed | Point G (live) | James Priestley | Giles Smith Room 2 hosted by ReviveHER – Tim Sweeney | guest TBA | Bi-Bop
Tickets
Tickets are available now from £12.50
www.residentadvisor.net/event.aspx?453961
secretsundaze
www.facebook.com/ssldn
www.twitter.com/secretsundaze
www.soundcloud.com/secretsundaze
www.secretsundaze.tumblr.com
www.vimeo.com/channels/secretsundaze
www.residentadvisor.net/promoter.aspx?id=22
ReviveHER
www.facebook.com/ReviveHER
www.residentadvisor.net/promoter.aspx?id=16953