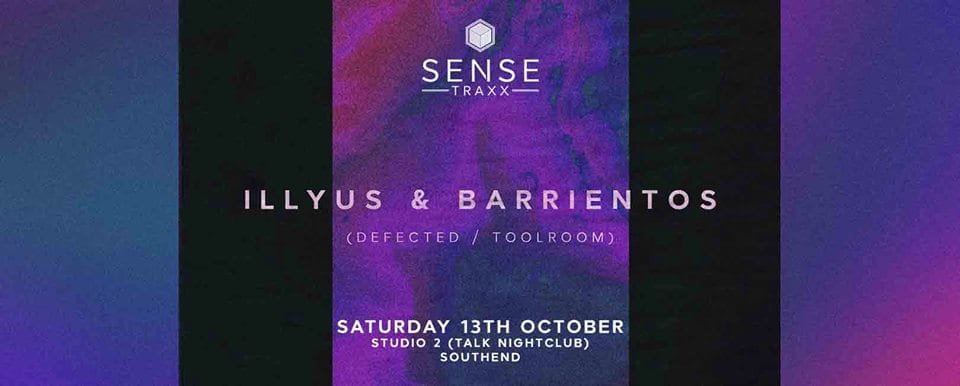 Sense Traxx bring Illyus & Barrientos to Southend
After making a substantial mark on Shoreditch's Platform three times in the last few months, as well as a recent day and night party in their hometown – house, disco and good time connoisseurs Sense Traxx are making their way back to Southend again, as they bring the party to familiar territory in the form of an Ibiza Reunion event on Saturday 13th October. Their penultimate party of 2018 holds another surprise for imprint-followers, who are in for a treat with this one.
In the last six months they haven't shied away from hosting a big headliner – recent names include Franky Rizardo, Sidney Charles, Kalyde, DJ Caspa and Kevin Over, and now to top things off they're bringing the mighty Illyus & Barrientos along to get involved. The Glaswegian duo are known for their energy behind the decks, not to mention their incredible productions that have been hosted by the likes of Defected, Toolroom, Glasgow Underground and more.
They've just showcased two Ibiza events, their first day and night party in Southend with Demuja as headliner, Simon Birkumshaw and co are certainly keeping themselves busy at the minute. On the release front they've just put out Kalyde's 'Rebel' – it gained heavy industry support and plays from De La Swing, Amine Edge & Dance, Sister Bliss (Faithless), Pirate Copy, Latmun, Horse Meat Disco and many more. On top of this they're also just a put out arguably their biggest release yet by Birkumshaw himself, which features releases from PEZNT, Kalyde and industry-heavyweight Todd Terry. Listen to 'Cut My Hair' and the remixes here: https://bit.ly/2NF3pVX
Sense Traxx having been firing on all cylinders in 2018, and this summer has been one of their busiest yet – make sure your diaries are cleared for the 13th October, and as ever, please use Sense Traxx records responsibly. Have fun, party hard but don't forget to go home.
Saturday 13th October
Studio 2, Talk Nightclub
Facebook Event: https://www.facebook.com/events/1939780689650832/
Tickets: https://www.residentadvisor.net/events/1159985
Sense Traxx
https://www.facebook.com/SenseTraxx/
https://twitter.com/SenseTraxx
https://soundcloud.com/sensetraxx
https://www.instagram.com/sensetraxx/