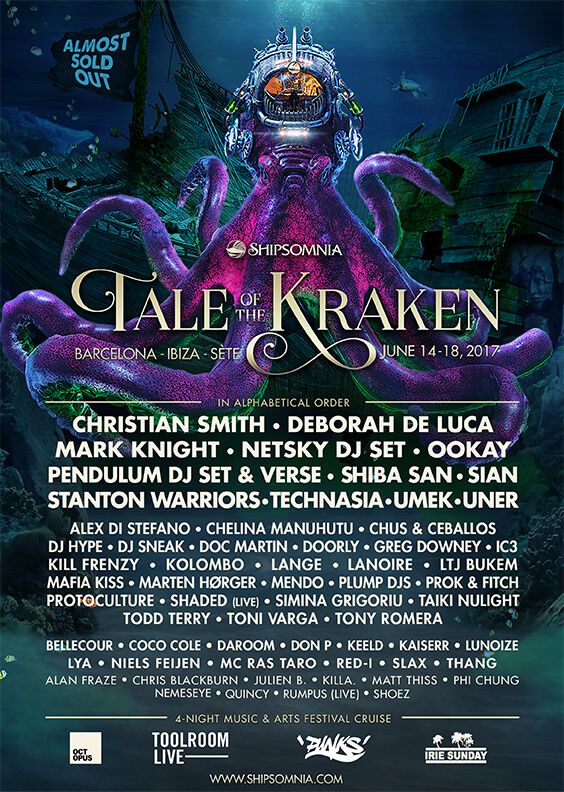 Shipsomnia announces line-up for Mediterranean voyage
Music and arts festival cruise Shipsomnia have revealed the full line-up for its Tale of the Kraken chapter which is scheduled to set sail on 14th – 18th June 2017, embarking on a Mediterranean roundtrip to Barcelona, Ibiza and Sête.

With travellers hailing from over 50 countries, Shipsomnia's European debut comes out strong with names such as Todd Terry, DJ Sneak, Deborah De Luca, UMEK, Technasia, Mark Knight, Uner, Ookay, Netsky (DJ Set) and more. This year's chapter will host 6 themed stages and parties hosted by music labels such as Toolroom Live, Octopus Records and Punks. Drum and Bass fans will not be disappointed with a strong DnB lineup headlined by Pendulum (DJ Set) & Verse, DJ Hype and LTJ Bukem inside the Shipwreck Theatre – Where the Kraken keeps his "Trophies".

A full day tailored to deliver the best 24hrs in Ibiza also awaits the international community of Shipsomniacs, starting with morning sightseeing tours and beach excursion to Cala Conte, followed by a sunset event at a surprise location. The Ibiza tour will end at one of the major clubs of choice before heading back to the ship for their afterparty dubbed "SunRise of the Kraken" which will be headlined by Shiba San.
Organisers have also granted a sneak peak into the untold story of the Kraken's Den by unveiling Shipsomnia's Official launch event of their European debut, which will take form as a Charity Ball at the National History Museum in London.
"This will be an exclusive invite only event that reveals more of the Kraken's story through an immersive party atmosphere accompanied by world renowned DJs & artistic performances. Invited guests will experience the untold story while we raise money for a great cause that we feel passionate about." Says CCO Jay Slangen.
All of the money raised through donations and auction items such as the one and only Royal Suite on board Shipsomnia will be donated to charity. Event website and full info on how to get shortlisted to win an invitation to experience the Kraken's Den at this historic venue will be released in April. Register on their website to receive updates at www.shipsomnia.com
From its intricate story telling like no other to its set designs and tailor made excursions for travellers across the globe, Shipsomnia is clearly proving to be more than just a festival. For full details on this 5D/4N immersive vacation experience check out their multi-lingual website at www.shipsomnia.com. Tickets to Shipsomnia were almost sold out prior to any artist announcement so make sure to snatch the last few cabins fast if you are thinking of joining this epic vacation.

Event Information
SHIPSOMNIA
Barcelona – Ibiza – Sête – Barcelona
14th – 18th June 2017
WEBSITE: www.shipsomnia.com
FACEBOOK: www.facebook.com/shipsomnia
TWITTER: https://twitter.com/Shipsomnia