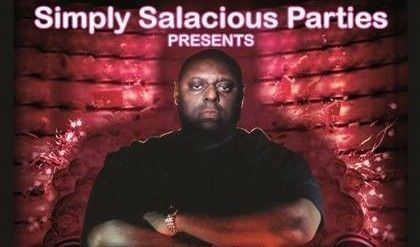 Simply Salacious: Tony Humphries
Now in their 10th year of putting on some of London's most talked about parties and following on from their amazing 10th birthday where they celebrated in style inviting house music dons Karizma and Atjazz to perform to a packed out venue, they return once again to Plan B and have invited a true house music legend, Tony Humphries to play a 4 hour set.
Tony Humphries is from a generation that spanned the death of disco and saw the birth of house. Like Frankie Knuckles and Francois Kevorkian, he's a survivor whose success has continued because he's adapted, while still maintaining the essence of what made him such a notable DJ in the first place. His name is synonymous to the early "New Jersey sound" due to his 8 year residency at New Jerseys Zanzibar, he was then invited to be resident at Ministry of Sound and also at Echoes of Rimini, Italy.
Without doubt, he has more than played his part in giving a major contribution to the house culture that we know today and continues to spread the house music gospel across the world with a hectic tour schedule.
His Tony Records imprint has become a staple for consistently delivering quality and constantly dominates the house music charts.
If you witnessed his set at in The Powerhouse at The Southport Weekender this year, we think you will agree, it was without doubt one of the best sets of the whole weekender.
Make sure you do not miss this very rare London appearance.
The UK's very own Ricky Morrison has also been invited to showcase his knowledge and experience, one of the UK's most respected house DJ's and producers, Ricky has been breaking beats since it all began in '86, resident at Dance Wicked and High on Hope he nurtured his sound which takes him across the globe playing to big rooms across every continent and sharing his love for the more soulful side of house.
A talented producer under the M&S/Girl next door guise and responsible for many of the ground breaking releases that helped take dance music from the back streets to the high streets including the monster hit Salsoul Nugget, the hugely successful 'Don't Give Up' with Michelle Weeks and their timeless remix of the classic 'Moment Of My Life' by Bobby D'Ambrosio.
Simply Salacious Promoter Peter Borg will for the first time in a while opening the party and getting everybody warmed up for what is set to be another talked about party.
Early arrival is suggested.
Be a part of this party and not one of those who hear just how great it was.
The history of Simply Salacious Parties
Simply Salacious Parties began life in 2004 after promoter Peter Borg threw himself a birthday party.
The party was such a success that he recognised a niche in the market and set out to create a space for like- minded people to come together under the shelter of uplifting house music.
This is still the ethos today and a formula that has been honed to guarantee a great night for all attendees and is the secret of its 10 year success! The music policy has always focused on the underground sound of house music and has always leaned towards the happier, uplifting sound – all you have to do is witness a party in to see the smiles from the dancers!

To date Simply Salacious have hosted some of the most talked about parties in London at venues such as Ministry Of Sound Club, Club Hidden, Factory, CC Club, Cafe de Paris, The Whitehouse, Babalou, Area and Cherry Jam, and many others. These parties included fantastic international guests such as Karizma, Atjazz, DJ Romain, Alfred Azzetto, Frankie Cee and DJ Disciple, as well as UK talent Richard Earnshaw, Aaron Ross, Neil Pierce, Gareth Cooke and many many more.