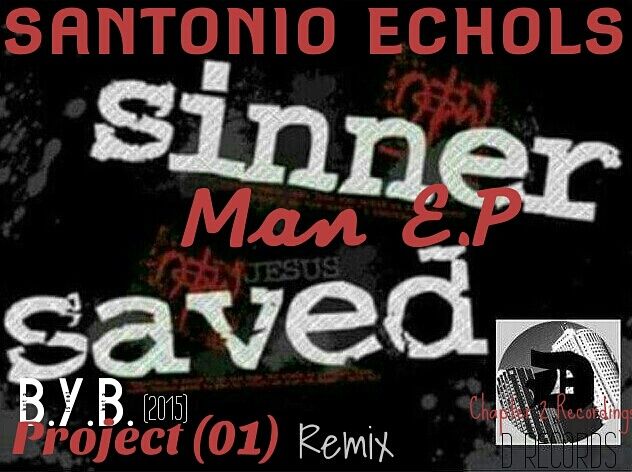 Santonio Echols - Sinner Man EP
One of Detroit's leading Dance music figures, Santonio Echols has been on the top of his game for the last 28 years, being one of the first Techno producers to emerge from his hometown in the 80s and continuing his hit tradition to this very day. Having recently put his signature on massive projects like: 'Soul Invasion', 'Warpaint Remix', 'Gracious Groove', 'Jazz Intrusion' and 'Retrospective EP', he is now back to form with his latest banger 'Sinner Man EP', out on Traxsource on the 30th of November, 2015.
'Sinner Man EP' is a continuation of Santonio Echols' consistent ascension. Having reached the spotlight as one half of the legendary underground duo Reese & Santonio, he later put himself on the map again with outstanding collaborations with the likes of: Nikolaos Moiré Patterns, Clemens Neufeld, Oliver Lieb, Combinator, Jonas Asp, Duane Evans, Orlando Voorn, MoBlack, Dj Deep, Greg Stafford, Claude Young, Blake Baxter, Eddie Fowlkes, Raquel Roberts, QuWonna Toney, Mike Anderson and Robert Doubledee Mills amongst others. As a highly in-demand DJ and producer, Santonio Echols has also managed to attract the attention of some of the world's leading labels, inking deals with: Tresor, Detroit Dancer, London FFrr, KMS, Decks Tracks, Opilec Music, React Records, Serious Grooves, D Records, Soiree Records, Random Noise Recordings, M.I.D Records, Express Records, Siren, Chapter 2 Recordings and Jambalay Records to name a few.
A four-track package, 'Sinner Man EP' holds some truly remarkable material, showcasing all of Santonio's talent once again. Whilst Santonio offered an Original Sunday Morning Mix of his lead single 'Sinner Man', Duane Evans contributed a wonderful Minimal, Techno and House infused Detroit Dub rendition of the same track. Adding to these two versions of 'Sinner Man', Santonio has included a special vocal cover of 'Bounce Your Body To The Box' – originally a classic release by Reese & Santonio, back in 1988. To close off this magnificent EP in style, Project 01 were assigned the remix job on 'Bounce Your Body To The Box', providing their unique stylistic touch and completing this team of A-list producers.
Santonio Echols' latest wonder 'Sinner Man EP' is yet another heavyweight addition to Chapter 2 Recordings' growing catalogue. The collaboration between Santonio Echols and Chapter 2 Recordings has been very fruitful from the very start and the result was a string of top-notch releases including: 'Dela vs Dela', 'Elena's Groove', 'Maria's Love Track', 'F.D.M (Funky Dance Music)', 'Grace', 'Holy Ghost / 3rd Demension / Twiology', 'Soul Invasion', 'Gracious Groove' and 'Jazz Intrusion'. Santonio Echols has certainly become a key artist within the Chapter 2 family, adding his name to their stellar roster amongst those of: None, Duane Evans and Mike Anderson. Keep an eye out for more Santonio Echols magic in the weeks to come!