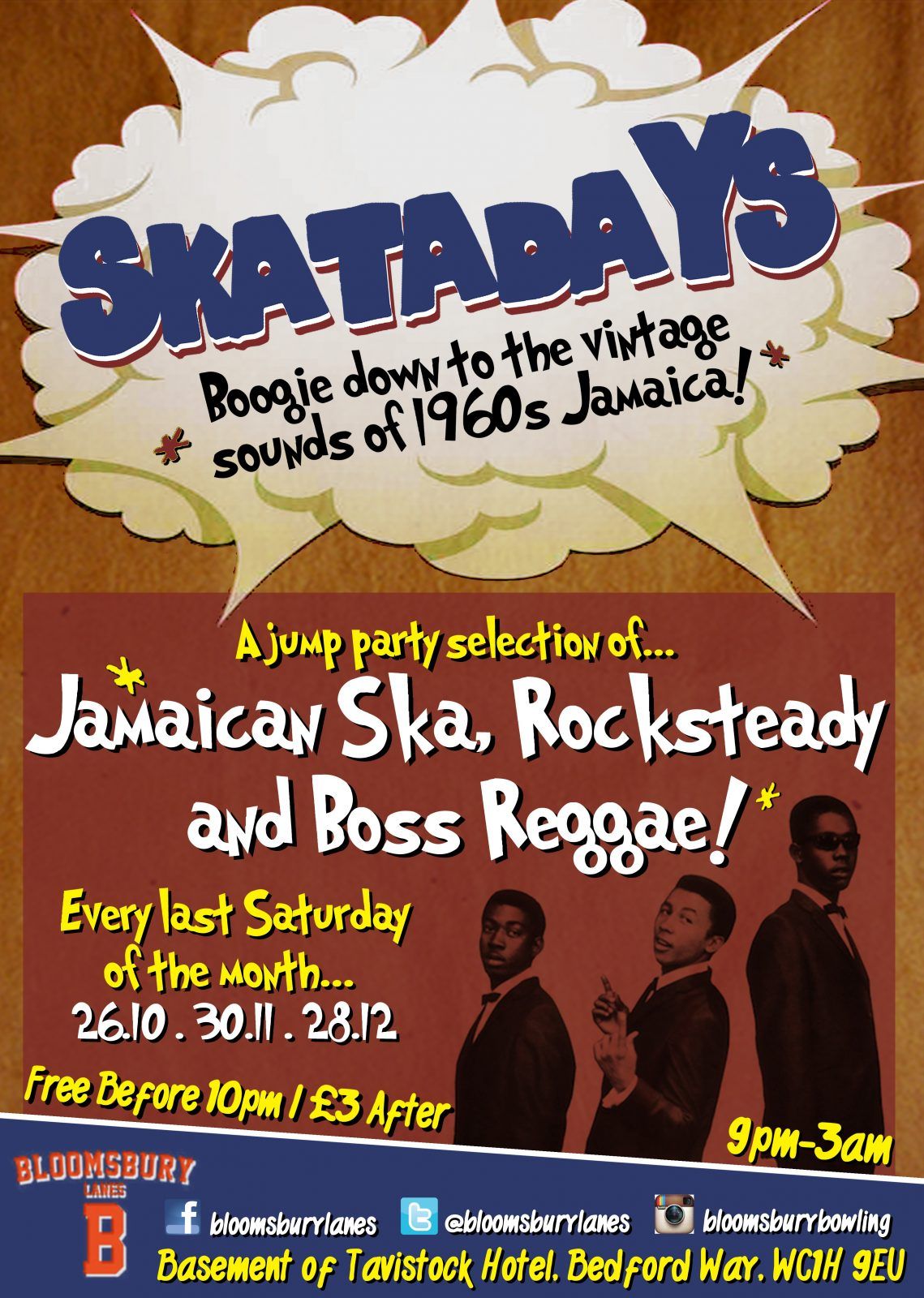 Skatadays
After hitting London town last month with a knock out selection of SCORCHERS from old time Jamaica…
SKATADAYS is back, in its new monthly slot at our London home… Bloomsbury Bowling Lanes!
Get ready to boogie down to vintage sounds of 1960s Jamaica with a jump party selection of…
JAMAICAN SKA ★ ROCKSTEADY ★ ORIGINAL REGGAE ★ BOSS SOUNDS …with the SKATADAYS ALL-STARS!
100% SCORCHERS ALL NIGHT LONG!
With the SKATADAYS ALL STARS
+ special guest ★ DJ LULU WILLIAMS ★
http://original.jpgwww.facebook.com/DJLuluWilliams
ENTRY:
£3 in adv.
FREE before 10pm
£3 all night thereafter
Expect to hear the likes of…
Toots & The Maytals / The Skatalites / Baba Brooks & His Band / Eric Monty Morris / Don Drummond / Jimmy Cliff / Desmond Dekker / Byron Lee & The Dragonaires / Winston Samuels / Derrick Morgan / Patsy Todd / The Wailers / Tommy McCook / Jackie Mittoo / The Uniques / The Paragons / Alton Ellis / Phyllis Dillon / Millie Small / Lord Creator / Delroy Wilson / Errol Dunkley / The Jamaicans / The Meledonians / Slim Smith / The Pioneers / The Ethiopians / Derrick Harriot / The Heptones / Laurel Aitken / The Techniques / Lord Creator / Ernest Ranglin / Owen Gray / Stranger Cole / The Four Aces / Keith & Ken / Granville Williams Orchestra / Lyn Taitt / Justin Hinds & The Dominos and many more…
http://original.jpgwww.facebook.com/Skatadays