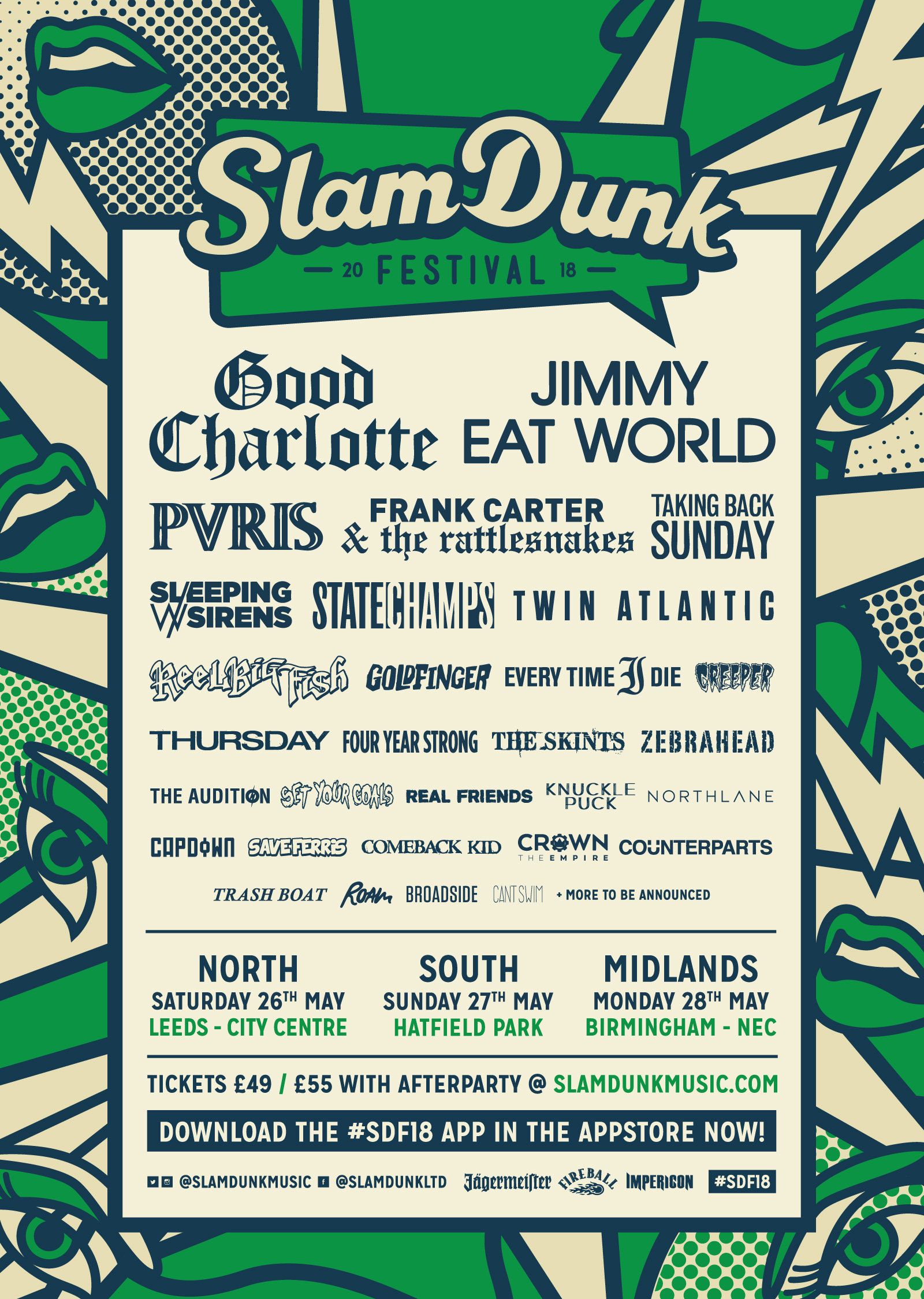 Slam Dunk Festival Confirms more acts…
Showing no signs of slowing down, Slam Dunk Festival have unveiled even more names for the almighty alternative extravaganza. Emo-rock heartthrobsThe Audition, ska masters Reel Big Fish, highly-revered Goldfinger and fast-rising pop-punk undergrads ROAM will all be heading to Leeds, Hatfield and Birmingham over the May bank holiday weekend!
Responsible for singalong pop-rock hybrid hits such as 'Warm Me Up', 'Approach The Bench', and 'Don't Be So Hard' that soundtracked endless summers, Chicago-based The Audition will be gracing the Slam Dunk stages in a worldwide reunion exclusive. In a highly-teased and highly-anticipated return, The Audition will be making their first live appearance in 6 years at the U.K.'s ultimate pop-punk weekender in May. The original line up consisting of Danny Stevens (vocals), Seth Johnson (guitar), Ryan O'Connor (drums), Joe Lussa (bass) and Tim Klepek (guitar) will all be on stage together for the first time together in nearly 10 years – a sight fans will be desperate to witness.
Danny Stevens of The Audition says;
"We couldn't more excited to be coming back to Slam Dunk Festival. We were part of the festival in the early years and the Slam Dunk shows and club nights in Leeds before that. To have our first show together as this group in nearly 10 years is really something special."
A treasured staple of the ska scene, Reel Big Fish will be returning to the festival after a series of raucous Slam Dunk performances, always guaranteed to unite festival fans in unbridled and enthusiastic singalongs. Armed with an arsenal of anthems such as 'Sell Out', 'Cheer Up' and 'Beer', the Californian trumpet troupe will no doubt bring the party atmosphere.
Marking another fantastic addition to the festival, the godfather of pop-punk John Feldmann will be bringing the unstoppable Goldfinger to Slam Dunk so not to miss out infectious ska & pop punk magic. With these two legendary third-wave ska acts appearing over the May weekender together, Slam Dunk Festival is set for a zealous celebration.
Pop-punk frontrunners ROAM will mark their unstoppable rise with an appearance at this year's festival, bringing the tracks that made their sophomore release 'Great Heights & Nosedives' to life with an incredible live performance that has catapulted them around the globe.
Alex Adam of ROAM says;
"We're so excited to be heading back to Slam Dunk with the new album. It's always the rowdiest show ever and we definitely have some plans to step that up further this year with the new songs."
In the biggest line-up to date, Slam Dunk Festival 2018 will also see pop-punk titans Good Charlotte and Jimmy Eat World perform their debut performances in a highly-anticipated co-headline sets. In addition to this, PVRIS, Twin Atlantic, Frank Carter & The Rattlesnakes, Taking Back Sunday, Creeper, Thursday, Every Time I Die, Counterparts, Four Year Strong, Knuckle Puck, Crown The Empire, Real Friends and so many more to be announced will make Slam Dunk Festival 2018 the only place to be this summer.