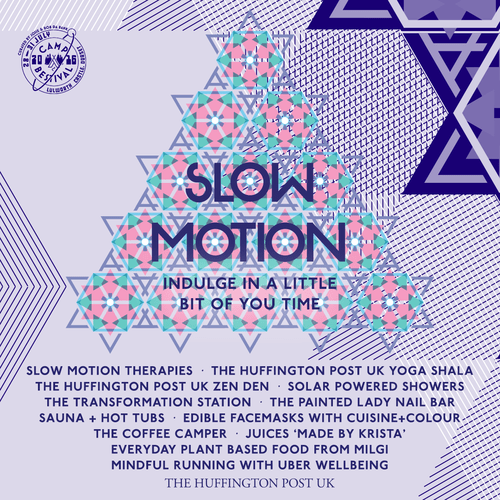 Slow Motion Comes to Camp Bestival…
We are delighted to announce that Bestival's hugely popular holistic zone, Slow Motion will be making its debut at Camp Bestival this year. There might be non-stop kids action at Lulworth Castle this July but Camp Bestival is for you too, mums and dads! So don't miss out on a whole arena dedicated to contemporary wellbeing, reenergising and rebalancing, from mindful running and meditation to re-centring yoga and restorative therapies. Slow Motion is the place to indulge in some you time, finding a little slice of inner peace away from the high-octane space-based entertainment.
Rob da Bank says: "With all the insanity, rushing around, lack of headspace and general unsettling vibes going around in the world at the moment, festivals are an escape that are more necessary than ever. Last year we created Slow Motion as an escape from the madness of a festival and I suppose the world… so we're very proud to unveil our new line up for 2016 for an area that really offers a different path and a new vision for you whatever you're into".
Whether you've just arrived and want to get on the fast track to a relaxed festival vibe or you're looking to soothe away the excesses of your intergalactic adventures, one of our Slow Motion Therapies could be just what you need. You'll be able to choose from Holistic Massage, Skin & Tonic Facials, Reflexology, Reiki, Indian Head Massage, Shiatsu or a Sports & Remedial rub down. All treatments use Pukka Herbs' therapeutic oils, so why not treat yourself this year before stepping back into the festival fun feeling refreshed and re-energised – in both body and mind? Our therapy sessions are always very popular, so book early to guarantee yourself a treatment at a time that suits you.

Attain liberation from the material world at The Huffington Post UK Yoga Shala with a range of yoga from Pregnancy Yoga to Yoga for all the family, Hip-Hop Yoga, Hangover Yoga and Yoga especially for stress! Programmed in conjunction with the team behind Yoga Connects Festival, sessions run from 8am-7pm each day, with something for everyone and new things to try out too, like capoeira, shamanic dance, Bolly Boogie or Aroma Yoga.
The Huffington Post UK Zen Den is a place for meditation, mindfulness and breath work, where you can relax and recharge and enjoy some 'me time'. There will be laughter therapy, gong baths, transcendental meditation with The David Lynch Foundation and mindfulness with Rohan Gunatillake of the Mindfulness Everywhere app. Come and discover some new techniques for quietening the mind, or enjoy the space to bring your usual practices into your festival experience.
Slow Motion's solar showers from Camplight are built with reclaimed materials. They run on sunshine and water the fields while festivalgoers wash with top of the range biodegradable soap to a carefully selected shower play list. Once you've had a shower why not head to The Transformation Station to spoil yourself and try our new skincare range from Skin & Tonic or indulge in a manicure or some hair braiding by The Painted Lady in our neighbouring nail bar?
If you're looking to unwind in style the Sauna & Hot Tubs from Tubs and Tents will be unmissable. As well as having excellent health benefits, a soak or aqua-fitness session in a hot tub is the ultimate de-stresser and relaxant. Hot tubs sessions sell out fast; make sure you don't miss out, book now!
We'll also have Edible Facemasks with Cuisine+Colour, artisan brews from The Coffee Camper, cold pressed raw juices from Juices 'Made by Krista' and Everyday Plant Based Food from Milgi. And for the more dynamic Camp Bestivalite, we will also have Mindful Running with Nick Michell from Uber Wellbeing, giving you an opportunity to experience the joy of running with like-minded souls while exploring the beautiful landscape surrounding the festival site. If you'd like to join in one of the runs, then please sign up here.
Bringing all the best bits of contemporary wellbeing into the same space, Slow Motion is a realm of calm and hidden pleasure connecting the body and mind.
Our space adventures are coming soon, so keep on checking our website, Facebook and Twitter for all the latest sub space communications.