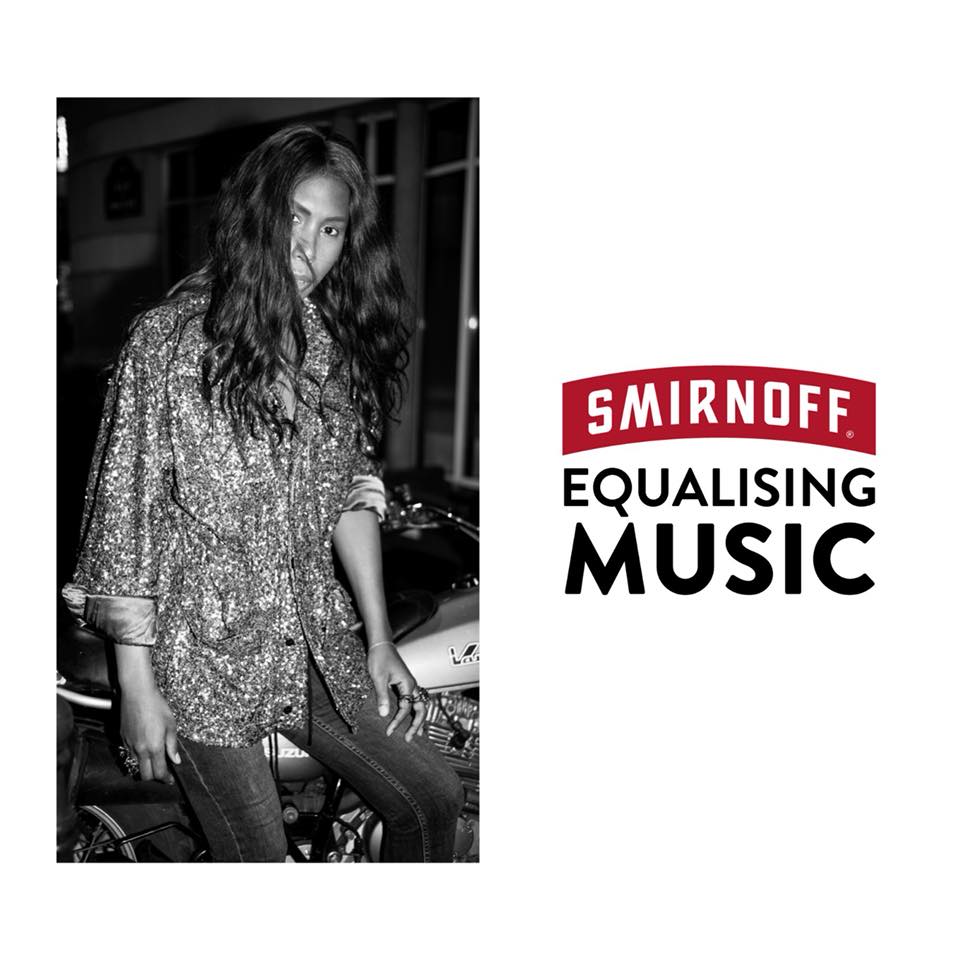 Smirnoff launches "Equalising Music" initiative
SMIRNOFF Equalising Music heads into the second of its three year campaign with more bold plans to push for gender equality on club and festival line-ups by 2020. Building on the success of the first year, SMIRNOFF announces a brand new partnership with media & entertainment group Global, as well as a new mentorship programme that will search for the next generation of female and female-identifying DJs under the guidance of established international artists The Black Madonna, Artwork, Honey Dijon, Peggy Gou and Nastia. SMIRNOFF also continues its work with Equalising Music partners Spotify, Deltic and Live Nation, announcing a series of new initiatives for 2018.
Despite a widespread media focus on gender equality, statistics show that the music industry continues to drastically under-represent female talent. According to FACTS, a bi-annual survey of electronic music festival lineups compiled by Female:Pressure, figures show a 5% uplift in female festival headliners from 2016 to 2017 globally. However, the average percentage of female headliners internationally was just 19% in 2017 and even more worryingly that figure drops to a mere 11% in the UK, showing that there is still much progress to be made.
Launched in 2017, SMIRNOFF Equalising Music is a 3-year, global initiative to escalate gender parity in the music industry by 2020 and effect serious, worldwide top-down change at industry level, with the help of a multi-million pound budget. Great strides were made in 2017 and the next 12 months are set to push the SMIRNOFF Equalising Music campaign even further, to continue to stimulate discussion and elevate female and female identifying talents into the positions they have rightfully earned.
SMIRNOFF partners with Global
SMIRNOFF announces a new partnership with influential media & entertainment group Global and its portfolio of world-renowned festivals and events. Global has created a one day event, 'Smirnoff Equalising Music Presents' at Printworks in London with a 75% female/female-identifying line-up, to promote the campaign, and there will be dedicated Smirnoff Equalising Music stages at Snowbombing and Lost Village. This will be amplified by an eight-month advertising campaign across Global's radio brands Capital and Capital XTRA, and DAX, the world's largest digital audio advertising platform.
Together with Global, SMIRNOFF also announce the SMIRNOFF Equalising Music DJ mentorship programme, a search for the UK's best undiscovered female and female-identifying DJ talent. The successful entrants will be mentored by internationally renowned DJs The Black Madonna, Artwork, Honey Dijon, Peggy Gou and Nastia and be given the opportunity to perform at Snowbombing, Lost Village or Printworks. To find out more and apply for the programme visit www.smirnoffequalisingmusic.com.
"I think it's important to celebrate all new talents, whatever gender, race or religion – whoever they are! This is a positive move to promote more female and female identifying artists and I hope I can share some of my experiences with some people at the beginning of their own journey." – Honey Dijon
SMIRNOFF and Spotify tackle unconscious gender-bias
According to Spotify data, none of the top 10 most-streamed tracks in 2017 were performed by female artists or bands. To help make a difference in the music industry, the makers of SMIRNOFF have teamed up with Spotify to increase representation of women in music by allowing consumers to impact their own listening habits through an industry-first application programming interface (API), dubbed the Smirnoff Equaliser.
The Smirnoff Equaliser analyzes Spotify users' listening habits to provide them with a percentage breakdown of the number of male versus female artists they have listened to in the previous six months before providing an equalized playlist tailored just for them, where artists of both genders are equally represented. The Smirnoff Equaliser further supports women musicians by offering a personalized slider, where the user can increase the number of women artists in their playlists.
One of the artists featured in the Smirnoff Equalizer is Honey Dijon, an African-American transgender woman who is a vocal advocate for LGBTQ+ and women's rights and highly respected for her musical heritage and curated DJ sets that defy genres. She will appear in the platform to share her experiences facing gender bias in the music industry.
Smirnoff and Deltic triple the female headliners
Smirnoff is also working together with Deltic, the UK's largest operator of late night bars and clubs, to make mainstream clubbing a more fun, diverse and safe place for women. In addition to bold plans to triple the female headliners at Deltic venues, the successful monthly party series "Smirnoff Big Night Out" will feature all-female line-ups exclusively. Together with Capital FM and Capital XTRA, Smirnoff and Deltic will also be searching for the UK's best undiscovered female and female-identifying DJ talent, through a nationwide competition.
Smirnoff Spotlight in partnership with Live Nation Source
Smirnoff Equalising Music is also partnering with Live Nation Source to highlight and support equal gender representation in the music space through Smirnoff Spotlight – a movement to shift the diversity dial. The Smirnoff Spotlight will feature up and coming DJs at LN Source events, increasing equal gender representation and exposure and supporting the path to future opportunities.
"Since Smirnoff launched Equalising Music in 2017, we have been working with some of the most forward-thinking people in electronic music, to #PressforProgress and escalate gender parity in the musicindustry." said Nicholas Cornbleet, senior brand manager for Smirnoff Europe. "Smirnoff stands for inclusive good times and together with our like-minded partners we want to ensure the best talent are headlining clubs and festivals, regardless of gender, and enable genuine, long-lasting change in the industry. Through our Smirnoff Equalising Music stages at Snowbombing, Lost Village and Printworks we hope to further shine a spotlight on women, transgender and non-binary talent in electronic music. Together with artists like The Black Madonna and Honey Dijon, our DJ mentorship programme aims to inspire the next generation of female and female-identifying headliners. The Smirnoff Equalizer, created in partnership with Spotify, encourages Spotify users to uncovers the diversity and gender bias in their playlists and be more inclusive in the music they stream. And our work with Deltic allows us to impact mainstream club culture, making it a more fun, diverse and safe place for women and non-binary people"
To find out more visit www.smirnoffequalisingmusic.com and www.smirnoffequalizer.com.