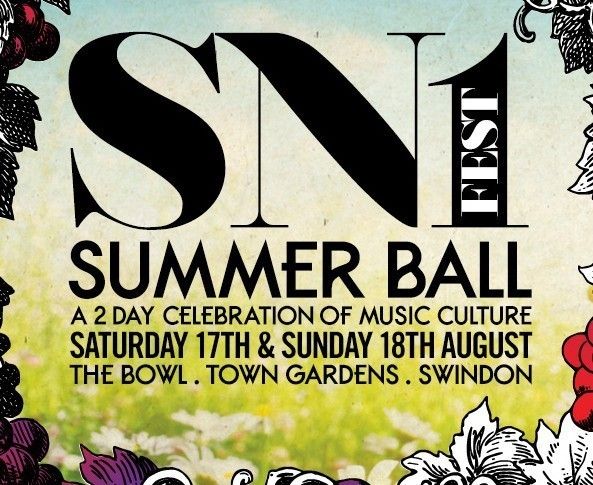 SN1 Fest Summer Ball 2013
SN1 Fest have an established history with the dance music community in Swindon, starting in 2009 as the pre party for Radio 1's Big Weekend, it has now developed into a bi-yearly event, one in May to showcase local DJ talent and one in August to highlight more national and international acts. This year the SN1 Fest return for their second instalment of their Summer Ball series following the success of last year's event. The Festival will again be in the picturesque Town Garden Bowl, in the Old Town area of Swindon.
The Summer Ball is Swindon's only 2 day Festival held centrally in the town. Starting on Saturday the 17th of August at noon, the first day is dedicated to dance music with headliners of Simian Mobile Disco, Shy FX & Stamina MC and Paul Woolford alongside an array of local DJ & MC talent. For weekend and Saturday ticket holders there is free entry between 21:30 and 23:00 to the official after party at SUJU with special guest Huxley.
The Sunday is going to be extra special this year, we are delighted to announce that Huw Stephens from BBC Radio 1 will be closing the event, and the day will be filled with a host of exciting artists. Artists include The London Underground Orchestra who on the day will be performing their interpretation of well-known songs as well as their own compositions; it will be the only place to witness a 40 piece orchestra as well as other artists performing a wide range of musical genres including Punk, Rock, Ska and Hip-Hop. Bands confirmed are the London Underground Orchestra, Buswell, 2 Sick Monkeys, AJ Live, British Harlem and Old Colours. The Sunday will start at noon and finish at 8pm and will cater for a variety of musical tastes.
TICKET INFORMATION Tickets are priced at £18.00 for the Saturday and £10.00 for the Sunday, with weekend tickets being £22.00; all tickets include a booking fee. There are also tickets for families and children for the Sunday. For information on tickets please see the SN1 Fest Fan Page on Facebook or search SN1 Fest on Residential Advisor or We Got Tickets online. Shops selling tickets are The Forum in the Brunel Centre and Sound Knowledge, Hughenden Yard in Marlborough.
Full price tickets are available on We Got Tickets and Resident Advisor – http://www.wegottickets.com/f/6506 http://www.residentadvisor.net/event.aspx?479214