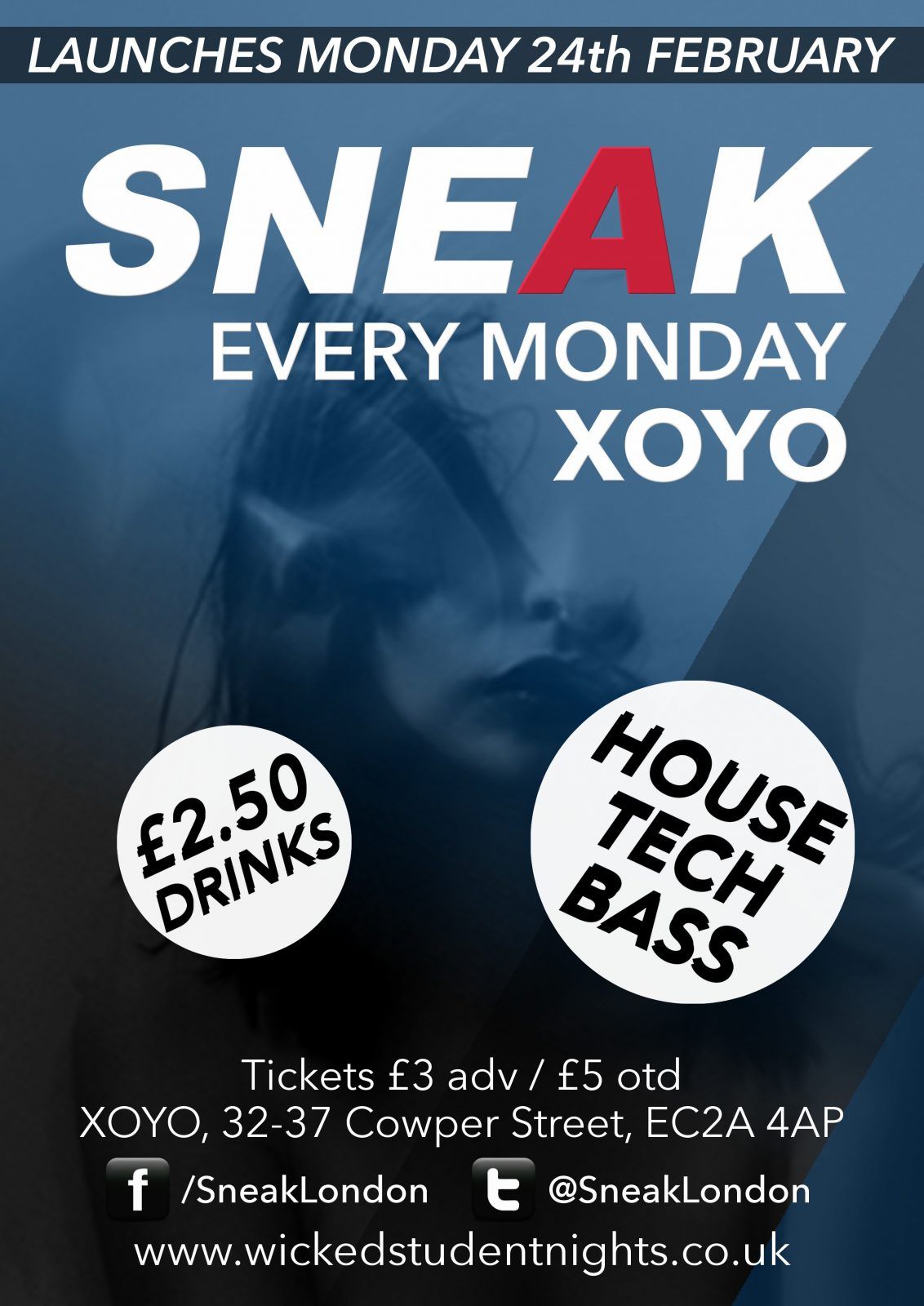 SNEAK at XOYO – London's first midweekly house night
Somewhere along the line, "Student Night" has become a bi-word for bad music, stained carpeted walls, and hair gel… C'mon, you're better than that.
So forget sticky floors and cheesy anthems, Sneak will be pumping out underground house, tech, and bass on one of the biggest sound-systems in London week on week. Our residents are signed to some of the biggest labels in the world and the drinks are £2.50.
Welcome to Monday nights at Sneak, XOYO.
►►SNEAK RESIDENTS
✖ Häxeri (Warner Music / PARANOIAK – French Record Label)
✖ JACK FRANCIS (Egg / Familia)
✖ ETHANE (Eton Messy / Revolve)
✖ MUNGO (Revolve)
✖ GRIZZLE (Revolve)
✖ RAMALLEY BOMB SQUAD
✖ GARETH J SUTCLIFFE (Get Satisfied)
✖ FINCHLEY FRED
✖ DJ Manny
£2.50 Drinks! inc Beers, Wine, Mixers, Shots
Address: XOYO 32-37 Cowper Street, EC2A 4EP
Nearest Tube: Old Street (Northern Line)
Bus Routes: 21, 43, 55, 76, 135, 141, 205, 214, 243, 394
Opening Times: 22:00 – 03:00
Strictly 18+ valid photo ID
www.facebook.com/SneakLondon
www.youtube.com/SneakUK
www.twitter.com/SneakLondon
www.mixcloud.com/SneakUK