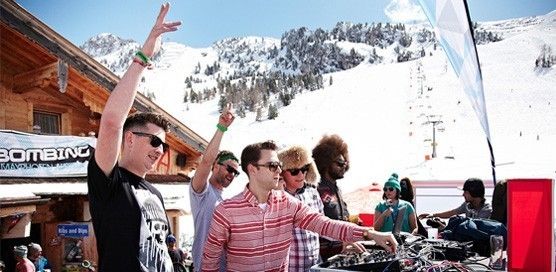 SNOWBOMBING ANNOUNCES HONDA AS OFFICIAL PARTNER FOR 2014
With only 11 days until the greatest show on snow gets underway, Snowbombing is beyond excited to announce that visionary automotive brand Honda becomes an official partner and official vehicle supplier to Snowbombing 2014

Honda will keep Snowbombing ice cool as they set off on the Road Trip and then take over the Snow Park and Snow Park Terrace once in Mayrhofen, for what promises to be an epic party on the piste.

Playing at the Honda Snow Park Terrace will be The Martinez Brothers, Skream, Artwork & Marc Roberts, who will compete in the legendary Snowbombing Disco Battle on Wednesday 9 April – not to be missed! Thursday 10 April will see Digital Soundboy Snow Carnival takeover, featuring Shy FX, B Traits, Dismantle, Breakage and more.

What's more, Honda will be treating you to a very special Piano House Party on Friday 11 April, featuring a real piano, a moog, and synthesizers on the Honda Snow Park Terrace! Mat Playford and Steve Burton will headline this unique party.

On top of all this (we really are spoiling you) at the Honda Snow Park will be everybody's favourite pro-rider competition – Ride & Seek, the funniest snow sports competition out there. It's the no holds barred, brilliant board-fest in the festival that gives a platform to the some of Europe's most piste loving (and party mad) Snowboarders.

The finals of this nail-biting competition see the boarders battle it out for the €2000 prize. This year we have the likes of Rudi Kroll, Alex Walch, Tom Tramnitz, Jamie Nichols, Billy Morgan, Jamie Trinder and many, many more!

Now in its amazing fifteenth year, Snowbombing is Europe's largest, longest standing and most unique snow and music festival, taking place between 7th and 12th April 2014 in the snowy alpine town of Mayrhofen, Austria.

The festival's line-up – outside of the Honda Snow Park Terrace – includes the likes of The Prodigy, The Chemical Brothers (DJ Set), Chase & Status (Live), Rudimental (DJ Set), Carl Cox, Four Tet and Groove Armada.

With mountains as a perimeter fence and boasting some of the most awe inspiring festival venues in the world, including a sky-high igloo, 2,000 metres above sea level, enchanted forest clearings, cosy alpine lodges and medieval barns, Snowbombing is a festival experience like no other.

See you on the slopes!