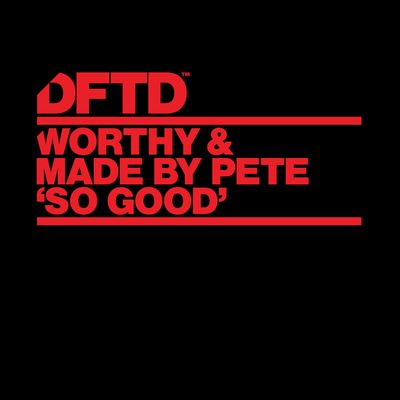 Worthy & Made By Pete - So Good
Worthy is one of those artists who strives to persistently refresh and reinvent his sonic intentions. As a DJ/producer he's had an intriguing journey so far, starting with his domination over funky, bass-driven, beats at Dirtybird, continuing though his own Anabatic Records, and making his way more recently to DFTD his 'Lower & Slower EP', and now this collaboration. Made By Pete hails from London and has been grafting for over a decade in dance music. His recent work has been getting snapped up by numerous influential labels and catching the attention of Pete Tong, MistaJam and T. Williams.

A track of epic bass proportions, Worthy & Made By Pete's 'So Good' has 'festival banger' written all over it. Its thundering, melodic bass is pacey and enticing, making it irresistibly danceable and perfect for festival crowds over the summer. The track builds intelligently, holding back a little at first, taking its time to peak while savouring every moment. It's DJ-friendly, crowd-friendly, and gives us yet another reason to rate this duo, and their musical explorations, very highly.