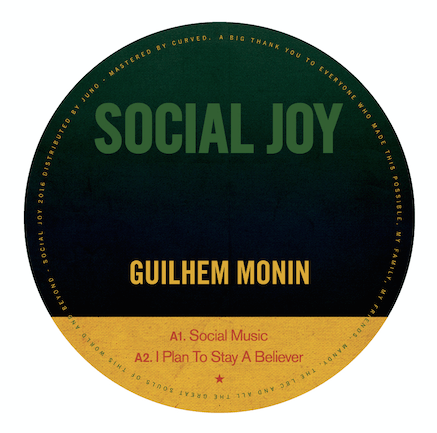 Guilhem Monin - Social Music
French artist Guilhem Monin kick­starts his Social Joy imprint with a four­track deep house release.
Born in 1986 in Montpellier in the south of France, Guilhem Monin is a passionate record collector, DJ and producer behind the label Colors, which has featured Boo Williams, Stephane Ghenacia, Thomas Roland, Remi Mazet, not to mention himself. Now based in London, Monin is spearheading the Social Joy Sunday party series at the Brewhouse (London Fields) as well as a vinyl and digital imprint sharing the same name. The label and party's sound is inspired by the first wave of house, disco and techno.
First up, 'Social Music' is a sample driven jam featuring crowd noises, funky bass licks and icey notes. 'I Plan To Stay A Believer' then merges sultry chords with shuffling percussion and twinkling atmospherics before 'VLG' sees the contribution of Leonardo Milano de Cuba for a low­slung cut featuring saxophones, moody organ melodies and an incomprehensible spoken vocal sample. Tying things together, 'People' incorporates soaring synths and atmospheric pads for an upbeat
Guilhem 'Social Music' drops on Social Joy on 31st October 2016.
Tracklist:
Social Music
I Plan To Stay A Believer
VLG feat. Leonardo Milano de Cuba
People
https://www.facebook.com/socialjoyrecords
https://www.facebook.com/GuilhemMonin
https://soundcloud.com/socialjoyrecords