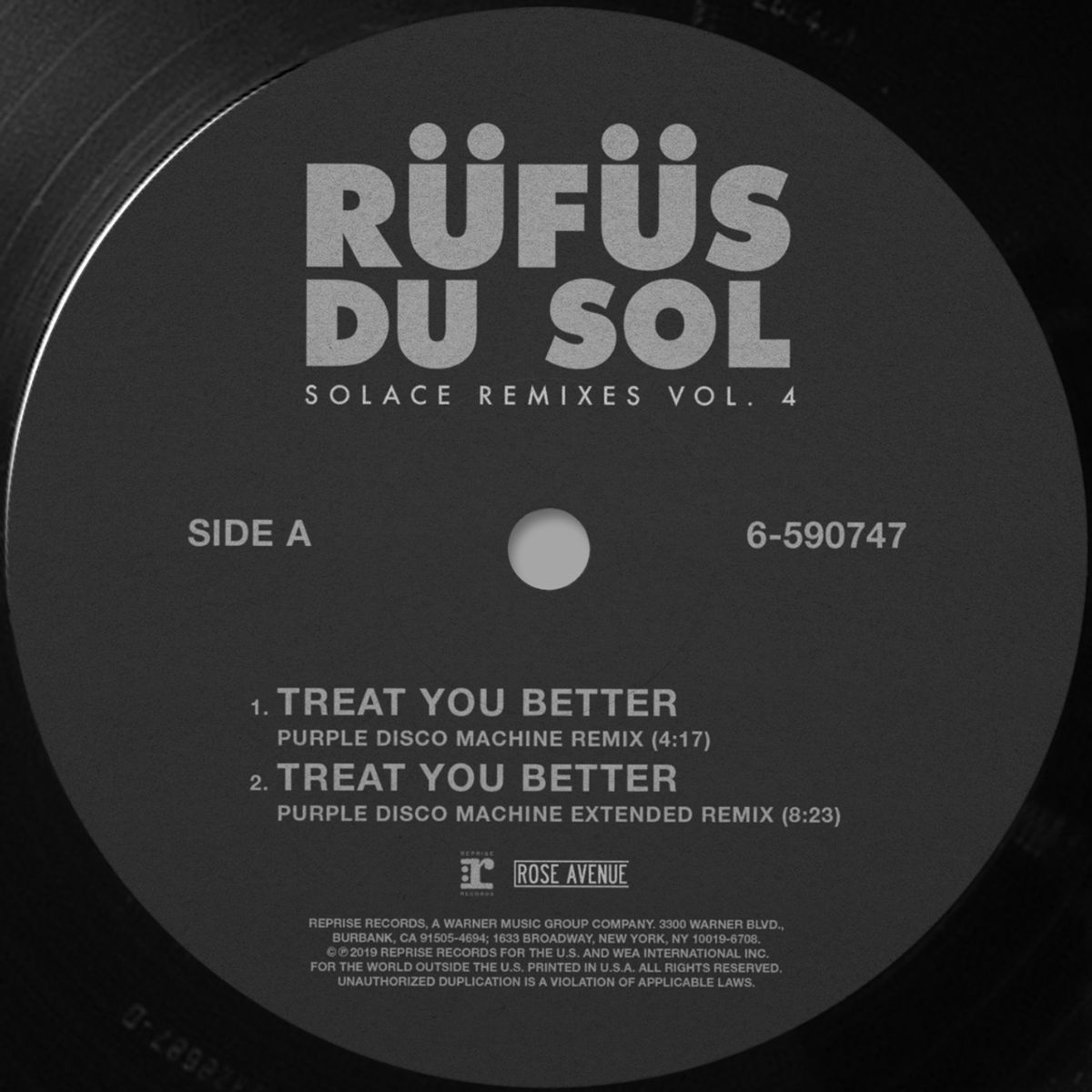 RÜFÜS DU SOL - Solace Remixes Vol.4
Global leaders of the live-electronic movement RÜFÜS DU SOL have released 'SOLACE REMIXES VOLUME 4' which features Purple Disco Machine's remix of 'Treat You Better'. The original mix of the track features on their current album 'SOLACE' which is out now on Rose Avenue Records / Reprise.

Purple Disco Machine brings pure disco sensibilities to the emotional ballad 'Treat You Better' by way of funk-driven guitar and bass, coupled with playful synth leads and club-ready arrangement. The producer, DJ and remixer has been delivering his unique flavour of disco-house since 2009.

Adding a modern touch to the 4/4 sounds that acted as the bedrock for modern electronic music, Purple Disco Machine's anthemic productions have earned him multiple Beatport #1s and club plays around the world. His take on 'Treat You Better' adds to an already shining catalogue of releases on some of the world's most celebrated house labels like Sweat It Out and Exploited.

As celebrated in the DJ booth as they are headlining festivals, RÜFÜS DU SOL continue to tip their curatorial hat to rising talents and widely respected legends alike. Exemplified through their own Rose Avenue Records imprint and by handpicking remixers from across the electronic spectrum, they aim to make their mark as a band by and for global dance music fans. With 'SOLACE REMIXES VOLUME 4', Purple Disco Machine joins a leading cast of remixers including Adam Port, Lindstrøm & Prins Thomas, Will Clarke and Icarus, with more to come.

Acclaim has come thick and fast for RÜFÜS DU SOL's third album 'SOLACE', the introspective and personal record, which was released in October and was named on best of the year lists from Billboard,The Guardian and more. The album earned the band a Mixmag cover story and the honour of a BBC1 Essential Mix late in 2018.

The latest remix offering comes on the heels of RÜFÜS DU SOL's 2019 US tour announcement which saw a string of immediate sell-outs at some of the nation's biggest venues. These shows will follow the band's triumphant return to Coachella Music and Arts Festival, this time with the spotlight of topline billing. Their most recent UK tour included a landmark sold-out show at London's Printworks.
RÜFÜS DU SOL 'Solace Remixes Vol.4' is OUT NOW via Rose Avenue Records/Reprise.