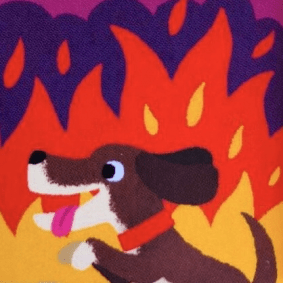 Love Will Say No - Some Girls EP
Italian producer Love Will Say No is next up on Yuksek's five year old label Partyfine with a brace of fantastic tracks featuring his multi-genre, big hearted and charming sound.
Little is known about Love Will Say No, except for the fact that he has a real sense of humour and storytelling musical ability. He has also remixed the likes of Four Tet and Prince as well as releasing various EPs of his own that touch on disco, lo-fi, house and techno.
Excellently emotive opener 'Hey Bad Girl' is a heartbreaking ambient track with wallowing synths and what sound like sombre bird calls. It's the sound of a failed romance, a teary night alone in your room. The majestic 'But You Didn't Come' is a rousing chorus of colourful synths and bouncy, uplifting drums; it's full of little hooks and has a big heart.
The bristling 'She Changed her Name' is driven along by a filthy but funky bass riff as a whole load of hits, shakers, whistles and chords light up the airwaves and get you up on your toes. It's an energetic track that feels like a live recording with a loveable roughness and dynamism. The unique 'Monday Happens' is another busy cut which layers up organic percussive sounds, vocals, the sound of children playing and fat synth lines into a cacophony of rhythm that will drive the floor wild. Last of all, 'June Always Breaks My Heart' is a glowing bit of late summer fun, with lurching drums and shimmering chords soundtracking the peak of the hottest months of the years.
This is expressive, individualistic music from a name who is sure to be heard a lot more once the wider world catches on to his talents.
Tracklist:
1. Hey Bad Girls and a Boy
2. But You Didn't Come
3. She Changed Her Name
4. Monday Happens
5. June Always Breaks My Heart