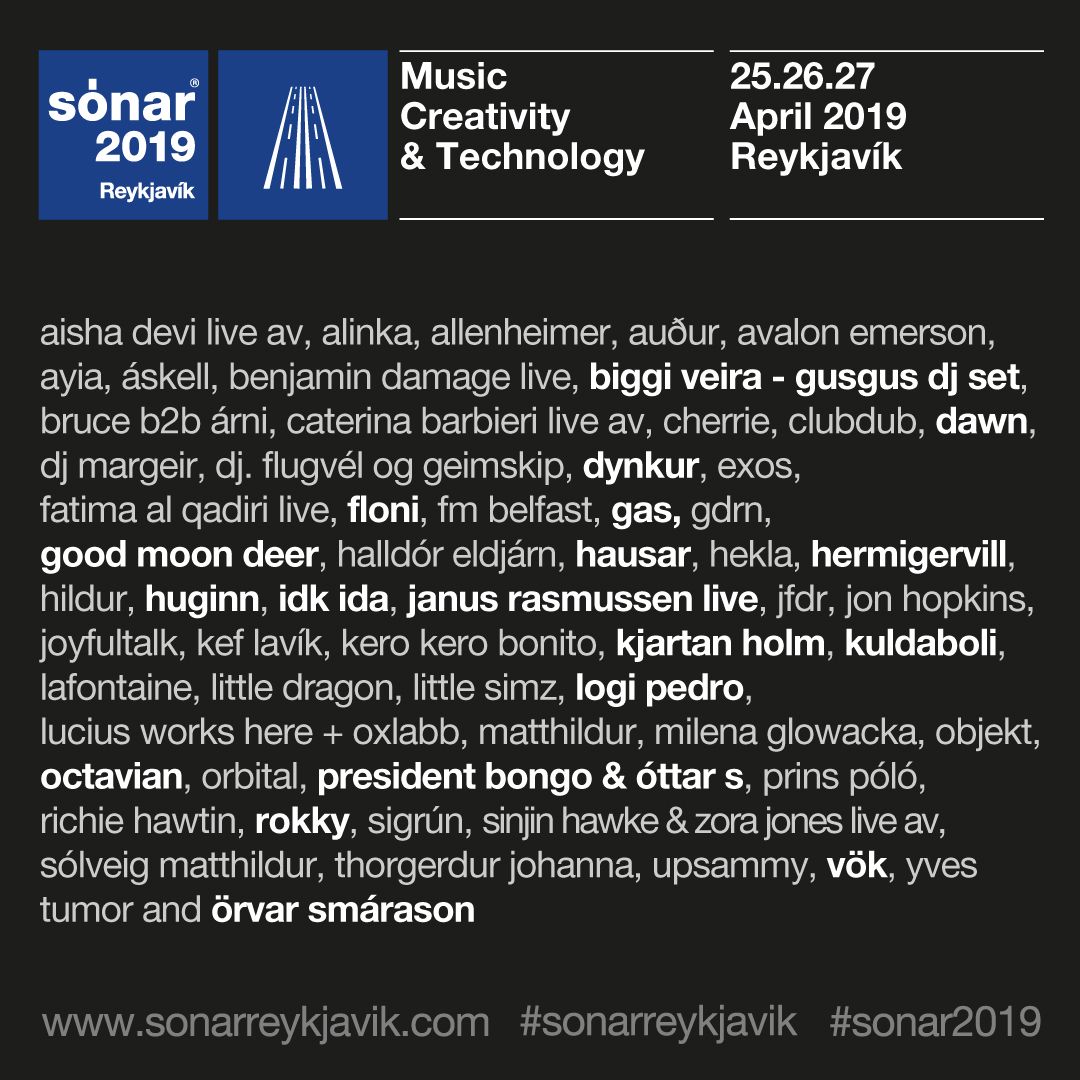 Sónar Reykjavík 2019 – DAWN, Octavian, GAS & more complete lineup
Today, the most Northerly outpost of the cutting edge Sónar Festival family, Sónar Reykjavík, completes its lineup for the 2019 edition. Taking place over four stages within the striking modernist Harpa concert hall over three days, the intimate 3,000 capacity festival will give fans the opportunity to see headline acts such as Orbital, Little Dragon, Richie Hawtin, Jon Hopkins, Little Simz and Objekt up close and personal, all against the fascinating and striking backdrop that is Iceland.
Rounding off the bill will be one of the most progressive forces in artful, left-field R&B, DAWN and winner of this year's BBC Sound Poll and British rapper of the moment Octavian. GAS, the ambient and atmospheric techno project from Germany's Wolfgang Voigt will perform a special opening concert on Thursday 25th April. As one of the techno's most prolific, influential and revered figures, it's Voigt's GAS moniker that's earned him the greatest plaudits across his career.
No Sónar Reykjavík would be complete without an all-star cast of the most exciting homegrown artists, and this year proves to be no exception. Confirmed for 2019 are Iceland's current biggest musical export, dream dance pop duo Vök; Biggi Veira, one half of the highly sought after Icelandic electronic acts, GusGus, and Iceland's number one hip-hop sensation Flóni.
One half of Kiasmos, Janus Rasmussen, will perform new solo material alongsideKuldaboli, the latest protege of Icelandic techno hero Bjarki and bbbbb labelmate, and Kjartan Holm, brother of Georg Holm of Sigur Rós fame.
Sόnar Reykjavik will once again be located at the city's internationally renowned cultural hub Harpa. Just minutes away from the city centre, the striking, acoustically-optimised concert hall hosts the festival across four spaces – the SónarComplex stage, which will present some of today's most innovative A/V experimentation, theHarpa basement carpark (hosted in partnership with Resident Advisor) and theSonarHall stage (in partnership with Red Bull Music).
Aside from its world class line-up and ultra-modern line-up, Sόnar Reykjavík's location makes it a highlight of the international festival circuit. Iceland is a destination like no other. Reykjavík offers a compact city, with an individualistic creative scene that informs everything from its hedonistic party vibes to its bold New Nordic cuisine. While Mount Esja provides a stunning cinematic backdrop toReykjavík, heading a short distance outside of the city centre offers some of the world's most beautiful sights including the shimmering Northern Lights and the awe-inspiring natural beauty of the Golden Circle. Where else can you start the day relaxing in a geothermal bath and finish it listening to techno in the Harpa basement carpark?
Ticket Information
Tickets for Sónar Reykjavik are available from StubHub for the price of €129 (approximately £112).
COMPLETES 2019 LINE UP WITH:

DAWN (US)
OCTAVIAN (UK)
GAS (DE)
VÖK (IS)
BIGGI VEIRA – GUSGUS DJ SET (IS)
FLÓNI (IS)
ÖRVAR SMÁRASON (IS)
JANUS RASMUSSEN LIVE (FO)
LOGI PEDRO (IS)
HUGINN (IS)
HERMIGERVILL (IS)
PRESIDENT BONGO & ÓTTAR S. (IS)
KULDABOLI (IS)
ROKKY (IS)
GOOD MOON DEER (IS)
KJARTAN HOLM (IS)
DYNKUR (IS)
HAUSAR (IS)
IDK IDA (IS)