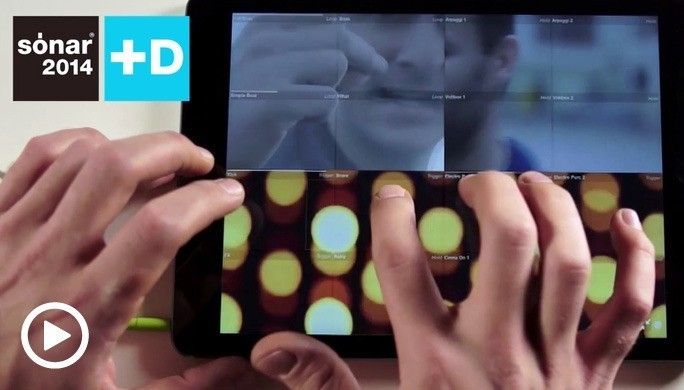 Sonar+D news on its 2014 programme: shows, labs, workshops and more…
Sonar 2014 presents the second edition of Sonar+D, consolidating its position as a meeting point for professionals from technology-based creative industries. Sonar+D will be held at Sónar by Day on 12, 13 & 14 June at the Palau de Congressos in Barcelona. This year it deepens its relationship with creative industry strategies, evolving into an international congress with an exhibition space, combining knowledge and trade.

Sonar+D expands its program in three key areas of digital culture: creative technologies, the business models which make them possible and the hackers & makers movement.
Noteworthy guests include Kickstarter, Fabrica or MIT Media Lab who will share key information on new creative formats, investment, production and marketing in the digital age, through event areas dedicated to debate, showcase and networking.

In its first edition in 2013, Sónar+D united 3,325 accredited professionals, from 57 countries, involving more than 1,600 national and international companies.
Spaces for reflection

Through diverse formats such as keynotes, meetings, roundtables and debating sessions, Sónar+D will include major international key representatives such as: Kickstarter (USA), the largest crowd-funding platform for creative projects in the world.

CaixaForum Barcelona will host an international meeting based around sound arts, which for the first time unites leading experts in their fields, including writer, musician and researcher David Toop, Seth Kim-Cohen and Salomé Voegelin.

Hiromi Ozaki, creator of MIT Media Lab's Design Fictions group will explain and begin a debate concerning the social, cultural and ethical implications of new technologies. Artist Daito Manabe, also part of the Sónar 2014 line-up and one of the most renowned creative technologists in the world will discuss his work, which combines art with commercial projects.

Meet the Expert returns, offering short individual coaching sessions with industry leaders, plus conferences for the business sector, open exclusively to accredited pass holders.

From the laboratory to the marketplace

The exposition for talent and innovation will take place at MarketLab where ideas, prototypes and companies created in laboratories; universities and i+d centres (in which technology is the common denominator) will display new formats for creation, production and marketing.

The Kunstuniversität (Austria), one of the most influential art and technology schools in Europe, will exhibit experiments like edible synthesizers. The sound lab Soundry will introduce a novel 3D immersive listening experience, and Sedition present their business model for contemporary low cost screen art, whose catalogue includes works by Damien Hirst.

Workshops

The practical application of Sónar+D will be carried out through various workshops organized for the maker community, together with prominent institutions, national and international companies such as: Queen Mary University of London, who will demonstrate the use of hacking tools; or New York company LittleBits who will give a workshop on manipulating and assembling analogue synthesizers through their revolutionary electronic magnet connected modules.

Shows and installations

Visualization of the interaction between creativity and technology will be on display at the Sónar+D stage together with Fabrica, one of the largest creative research centres in the world. They will present "Imposition", a show that manipulates the perception of reality and space, by way of a forest of luminescent trees.

The Mies Van der Rohe pavilion hosts the installation "Spectral Diffractions" by Dutch artist Edwin van der Heide, it will consist of 40 speakers attached to the ceiling, which will immerse visitors in a listening experience that integrates sound architecture.

SonarCinema joins the Sónar+D arena and will include not only documentary and film premieres but also presentations and strategies for audiovisual production.

Professional Accreditation and the new two-day ticket

The Professional Accreditation pass provides new benefits: improved access and a new Pro Area at the SonarClub stage at Sónar by Night, with an exclusive space to view shows. There will also be a special walkway connecting the Pro SonarClub and SonarPub areas, as well as a new online check-in system to expedite the collection of accreditation passes.

The Professional Accreditation pass will allow access to all Sónar+D activities and Sónar by Day and Sónar by Night concerts, throughout the three-day festival. Check the advantages of Professional Accreditation and grab it here: http://sonarplusd.com/en/pg/participa

A new way to discover Sónar+D is the two day ticket for Thursday 12 and Friday 13, priced at € 80. It is especially designed for those interested in the Sónar+D activities, and permits the holder to attend all program events (except for exclusive services and activities for accredited professionals). The new ticket allows access to all Sónar by Day concerts on Thursday 12 and Friday 13 June at Fira Montjuïc. Grab it here: http://sonarplusd.com/en/pg/participa
More info at www.sonar.es