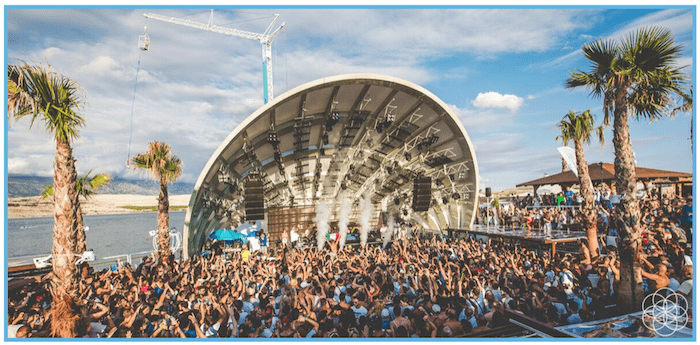 Sonus Festival 2015 : A Thank You!
After another sell-out success at this years adventure, the Sonus Festival team would like to say thanks to all those who made 2015's epic the strongest outing to date. Proving that it takes a lot more than rain to dampen the spirits of dedicated ravers, this year saw 10,000 people from each corner of the globe collected in Zcre Beach for five days of power partying across boat parties, clubs and stages, all soundtracked by the cream of the underground.
Opening night parties across Aquarius, Papaya and Kalypso proved to be some of the most legendary parties the site has ever seen, capturing the true spirit of Sonus as the worlds premiere selectors threw it down until sunrise. Known for being an artists favourite year on year, each name on the bill gave 110% across all festival arenas, from the Croatian talent through to the international heavyweight headliners, check the stellar line-up in full below. Each festival stage showcased the best from the underground, through from dubby techno and fist-pumping beats to effortless minimalism and feel-good house. Ending the week in style, on the final day a rave-a-thon afterparty in Kalypso started at 9am and ran through until midnight, with secret sets from some of the biggest names on the line-up. Despite the weather suspending two boat parties meaning they had to move to another day, the team made sure that each planned party went ahead asap.

The Sonus Festival team would like to say thank you to all the clubs and staff that have made this years festival the best yet, our numerous partners and especially to all those festival goers who partied on through rain or shine! With Sonus's reputation as the number one festival for discerning house and techno lovers worldwide growing, the team once again prove they have got the winning combination of monumental programming, stunning site and most importantly, an incredible party atmosphere.
In Sonus We Trust.
Sonus Festival 2015 Lineup (In Alphabetical Order)
&ME * Âme live * Alexandra * Apollonia * Archie Hamilton * Barac * Bella Sarris * Binh * Bunte Bummler live * Chris Liebing * Dan Andrei * Disco Channel * Dixon * Dorian Paic * Enzo Siragusa * Fabio Florido * Felipe Valenzuela * Felver * Fumiya Tanaka * Guti (live) * Guy Gerber * Hash * Hold Youth * Homeboy live * Ian F * Jackmaster * Jamie Jones * Joseph Capriati * John Digweed * Karotte * Labud * Len Faki * Leon * Loco Dice * Luciano * Marco Carola * Mariano Mateljan * Margaret Dygas Martin Buttrich live * Matador (live) * Mathias Kaden (live) Meat * Mimi * Miss Soulfly * Monika Kruse * Nastia * Onur Özer * Pan-Pot * Rampa * Raresh * Rhadoo * Richy Ahmed * Ricardo Villalobos * Richie Hawtin * Robert Dietz * Rødhåd * Seb Zito * Sedee * Sergej Snooze * Seth Troxler * Shaun Reeves * Shoxy * Sonja Moonear * Soul Capsule * Steffen Deux * Sven Väth * Tale Of Us * The Martinez Brothers * tINI * Valentino Kanzyani * Woo York live * Zero * Zip *