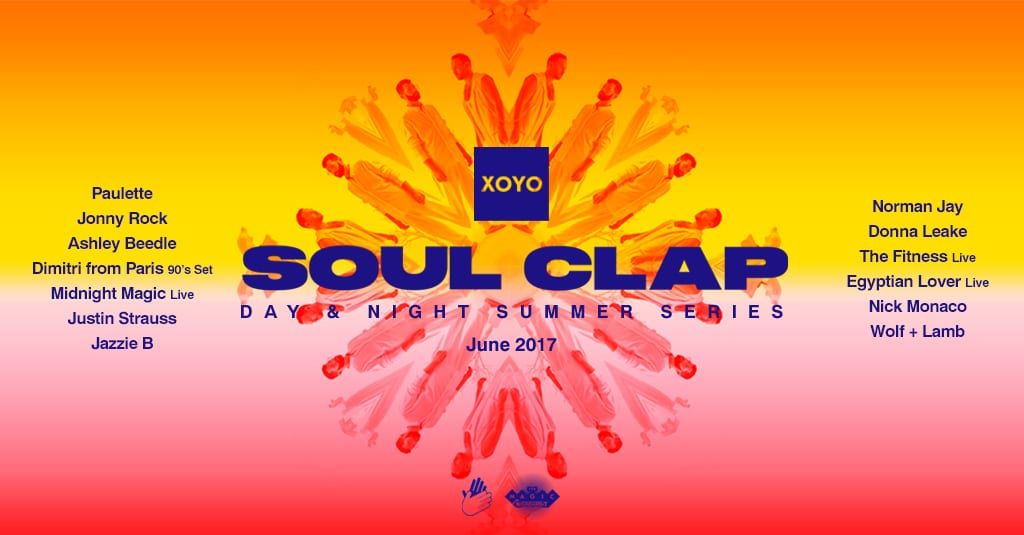 Soul Clap Day & Night Summer Series in London…
XOYO are extremely excited to announce our Soul Clap Summer Series as the sublime EFUNK pioneers throw four day-into-night parties, across the month of June.

Each Saturday, from 1pm till sunset, Soul Clap take over East London daytime hotspot The Magic Roundabout for the ultimate summer pre-party. Once night falls, it's a short saunter or possibly a wobble, back to XOYO where the party continues into the early hours.
As the Boston-bred duo relocate to London-town for a month, they invite along a string of seminal acts to help soundtrack each party:

Kicking off the series on Saturday 3rd June, Soul Clap welcomes Soul II Soul frontman Jazzie B, alongside Brooklyn disco ensemble Midnight Magic playing live, and ever influential New Yorker, Justin Strauss. A diverse lineup that represents the sounds of the Soul Clap Records label.

XOYO regular and Playboy Mansion maestro, Dimitri from Paris is joined by legends Ashely Beedle and Paulette brings to bring us special 90's sets and celebrate the return of YoYoYo 90's Jam to London on Saturday 10th June.
Crew Love is True Love as Soul Clap partners in vibe Wolf + Lamb, Nick Monacojoin in on Saturday 17th June for the summer's only official Crew Love party in London, which also features the UK debut of The Fitness & Pony.

To close the series, Soul Clap presents The House Of EFUNK, inviting the master of the 808 drum machine and one of the most distinctive electronic artists, Egyptian Lover, to XOYO for a special live set on Saturday 24th June. If that wasn't enough to get you in the door, Norman Jay will be in full effect bringing his signature soundsystem rocking flavor.
Next in line to release the 93rd installation of the coveted fabric mix CD, Soul Clap's reputation as both outstanding DJs – mixing together seemingly disparate genres into a passion fueled journey through dance music – and impeccable producers has lead them to become artists with a style which is truly distinguishable. Although their roots are firmly planted in the sphere of house, Soul Clap's sonic influences span the realms of hip-hop, disco, electro, funk, soul, RnB… The effect of this varied approach is something totally unique. Whether during a DJ set in front of thousands of clubbers or through the music they make, Soul Clap's ability to get people moving is unparalleled.

Prepare for cocktails to flow, the sun to shine and the most seductive, low-slung sounds from the realms of funk, house, disco and hip-hop in two of London's most loved party spots – sounds like the perfect summer party to us.
"We, Soul Clap, cannot wait to flex our funkiness with our beloved London family at XOYO this June. We realize the significance of being invited to participate in this special series and pledge to do our damnedest to represent as both curators, hosts and entertainers on the wheels of steel. See you on the dancefloor." – Soul Clap

Saturday 3rd June
Soul Clap Records Night
SOUL CLAP
MIDNIGHT MAGIC LIVE
JAZZIE B
JUSTIN STRAUSS
Saturday 10th June
Yoyoyo 90's Jam
SOUL CLAP
DIMITRI FROM PARIS 90s SET
ASHLEY BEEDLE
PAULETTE
Saturday 17th June
Crew Love Night
SOUL CLAP
WOLF + LAMB
NICK MANACO
JONNY ROCK
THE FITNESS LIVE
Saturday 24th June
House of EFUNK
SOUL CLAP
EGYPTIAN LOVER LIVE
NORMAN JAY
DONNA LEAKE