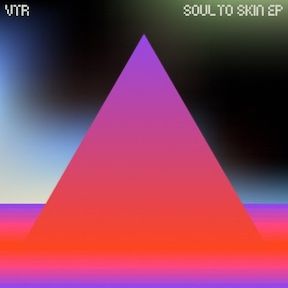 VTR - Soul To Skin
South London electronic duo VTR prepare their alluring debut Soul to Skin EP for release on Brixton's Dream Diary Records.

Singer-songwriter Kristy Clark and producer Olsi Rama merged their respective skills after several chance musical encounters in their shared Brixton studio. Clark's sensual lyricism occupies a distinct space amidst Rama's spectral sound design, striking a balance between haunting depth and inviting warmth. Throughout the EP's four tracks, moments of pop clarity twist subtly into abstraction; vocals and sonics interlace and deviate much like the experimental films from which the duo draw inspiration.

'Soul To Skin' is equal parts sombre RnB balladry and slick exploratory electronic beat tape. The title track and album opener is cloaked in smooth, layered loops and blissful, contemplative textures that recall Mark Barrott and Bibio while the vocals focus on a much more intimate and seductive manner that you may expect to catch on a Solange track.

Although not a literal acronym, the name VTR pays tribute to the invention of the Video Tape Recorder, the first technology to offer simultaneous recording of audio and video. This retro- futuristic quality has already captured the imagination of tastemakers like Gilles Peterson, who opened his BBC Radio 6 show with the EP's title track.

Soul to Skin was co-produced by recent R&S Records signee Afriqua, whose SLAP EP and Chronic Cool 12" on Dream Diary brought considerable attention to the label. Since 2015, Dream Diary's limited vinyl editions have earned a reputation for musical quality and club- readiness. Soul to Skin marks two of the label's firsts in a new chapter: the EP is Dream Diary's first digital/physical release, as well as the first to feature prominent vocals and song writing.