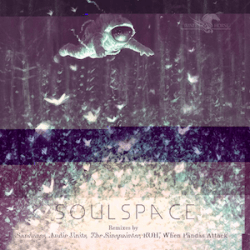 Soulspace - Soulspace Remixes
Two tracks from Soulspace's brilliant and highly acclaimed self-titled album have received the remix treatment, resulting in a package of compelling collaborations from across India's electronic music sphere. This 2014 album on Wind Horse Records from Soulspace – AKA New Delhi's Vishnu PS – captivated listeners from the worlds of deep house, 'chill out', and abstract electronica and the remixed single also appeals across this spectrum. Soulspace has taken album cuts "C'est La Vie" and "You" and placed them into the hands of a variety of Indian producers, including those working outside of deep house for a more eclectic, 'alternative' direction.
The emotive track "You" receives a trio of versions, led by a gentle downtempo interpretation from Mumbai's Sandunes. The project of Sanaya Ardeshir, Sandunes wraps "You" in complex breakbeat rhythms and clever manipulations of the original's trademark vocal phrase. The Sine Painter (comprised of the Bangalore-based Jayanth Ramachandra) arrives next, giving the track a forlorn four-on-the-four treatment, including echoey plucked melodies for an exotic effect. When Pandas Attack then provide the third remix of "You", enveloping the track in thick pads and chiming tones, as breezy downbeat drums and stereo-swirling vocal snippets combine in a mesmerizing manner.
Soulspace's "C'est La Vie" also receives the remix treatment, earning a pair of pleasantly diverse versions. Bangalore DJ duo Audio Units – familiar to followers of Wind Horse Records – have revealed a lush deep house revision of Soulspace's track. It features a bouncing, buzzy bass line and melodic arpeggiations alongside a flurry of atmospheric treatments. Late night bliss. Rohan Ramanna, known here as ROH, next reinterprets "C'est La Vie" as a cinematic downtempo soundscape, masterfully capturing a dreamy feeling with layers of sparkling sound and an insistent, slow motion rhythm. This one demands to be listened to on headphones.
These remixes of "C'est La Vie" and "You" show Wind Horse Records moving into new and exciting directions while embracing more diverse players in India's burgeoning electronic music scene. Stay tuned for what most certainly will be fascinating developments in the near future.