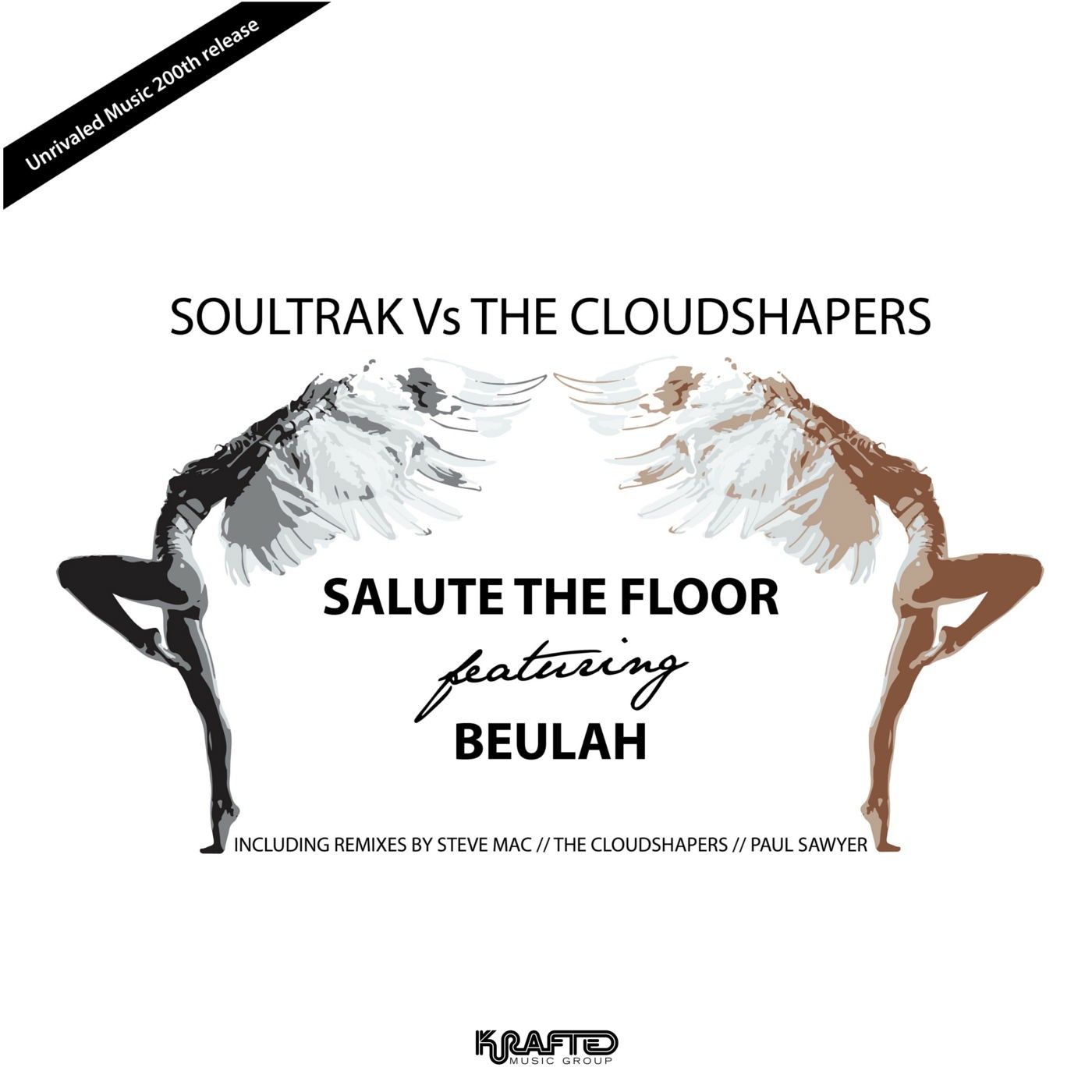 Soultrak VS The Cloudshapers - Soultrak VS The Cloudshapers – Salute The Floor
DJ's Salute The Floor for Unrivaled Music's 200th release!
Soultrak duo team up with fellow Bournemouth Dj and producer The Cloudshapers to deliver their huge collaboration 'Salute The Floor' featuring Manchester's finest vocalist Beulah, which will mark the 200th release in Unrivaled Music's catalogue.
This new collaboration features the uplifting, powerful and summer-appropriate house cut 'Salute The Floor' alongside a selection of remixes that delve into more dubby and tech-focused territory.
The original cut comes in at just over five minutes and is built on a driving 4/4 kick and snare combo. Pairing a deep, simple-yet-effective bassline with strong female vocals from Beulah, who perfectly conveys in her lyrics the hedonistic moment of losing yourself on the dance floor, Soultrak and The Cloudshapers skills combined result in a euphoric club-storming tune.
Paul Sawyer had this to say about how he and his fellow Soultrak member Paul Moore came to collaborate with The Cloudshapers on 'Salute The Floor':
"Paul was already a friend and colleague of Simon Sinfield (The Cloudshapers), working for Simon as A & R on Base Music and introduced me to Simon due to his regular Radio Show in Bournemouth at the time at Fire Radio. I was a guest on Simon's show soon after and this fused our friendship which has moved on towards collaborating on releases and also resulted in our Krafted Radio Show having a weekly slot on Simon's radio station Base Radio."
The accompanying remix package includes a radio edit, two dub versions, one version by The Cloudshapers, another from Paul Sawyer and a re-work from the legendary Steve Mac.
Paul Sawyer's remix sees him introduce technical, ticking percussion from the off with Beulah's vocals sounding extra-dreamy, whilst his dub remix includes ominous additional melodies and extra reverb: taking things in a slightly darker direction on a late-night tip. As the release progresses things are switched up again, with Simon reworking the original tracks drop in his remix and turning things around with extra pads before drawing the beat down to a smooth close.
Guest remixer Steve Mac aka The Rhythm Masters has worked alongside industry heavy-hitters such as Shakira, One Direction, James Blunt, Kelly Clarkson, JLS, Leona Lewis and The Saturdays: winning the ASCAP Songwriter of The Year award in 2013 for several works. Chopping up the vocal of 'Salute The Floor' with a funky riff layered above the original kick snare drum pattern, his remix ebbs and flows to perfect house groove. Steve has proven himself time and again as a man with a great ear for an anthem, and this latest rework is no exception.