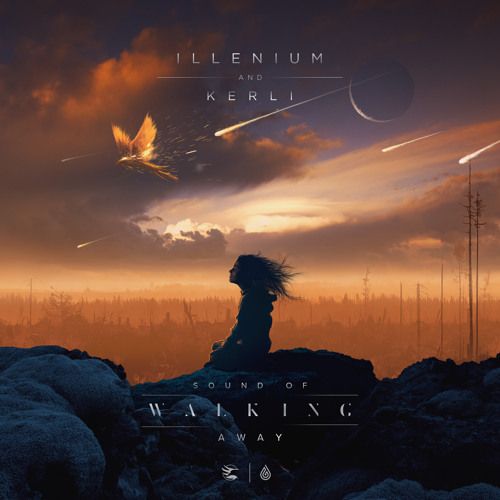 Illenium & Kerli - Sound of Walking Away
Fresh off the release of his massive collaboration 'Feel Good' with fellow melodic dance producer Gryffin and Grammy Award winning vocalist Daya, Illenium has returned with 'Sound Of Walking Away', out now on Seeking Blue / Kasaya. Sure to impress core fans of both Illenium and Kerli, the two have linked on yet another colossal track streamable via the link below.
STREAM: ILLENIUM & KERLI – SOUND OF WALKING AWAY [SEEKING BLUE / KASAYA]
Nick Miller, better known to the world as charting DJ/Producer Illenium has been on a steady rise to acclaim since his 2013 debut. Now touring the world performing his multi-million stream remixes and originals, the Denver-based creator has another hit on his hands with 'Sound Of Walking Away'. A collaboration with Estonian vocalist Kerli, the track builds on a steadily climbing acoustic guitar, ultimately breaking with a signature robust Illenium drop. Kerli's voice is instantly recognizable, as fans may know her from her work with Seven Lions, Benny Benassi, and SNBRN, along with her extensive catalogue of originals and award winning music videos. The talented singer and songwriter is no stranger to versatile production, having crafted everything from Billboard #1 hits to dubstep infused deep cuts. This co-write with Illenium is laced with powerful emotive chords and soaring vocals, and 'Sound Of Walking Away' (a cut off Miller's upcoming album) will be an immediate favorite of Future Bass and Progressive Dance fans alike.
PURCHASE: ILLENIUM & KERLI – SOUND OF WALKING AWAY [SEEKING BLUE / KASAYA]
Fans can catch Illenium live all across the United States, starting in May at The Masquerade with fellow Bass producer, Said The Sky. 'Sound Of Walking Away' will surely see heavy play throughout his sets, along with his stacked catalogue of unique remixes and formidable original productions. Follow Illenium, Kerli, Seeking Blue, and Kasaya via their socials below, and grab tickets for all Illenium shows here!
NORTH AMERICAN TOUR
May 5 – The Masquerade, Atlanta, GA
May 6 – Shaky Beats Festival, Atlanta, GA
May 7 – Middlelands ,Todd Mission, TX
May 12 – Electric Brixton, London, UK
May 16 – Hammerstein Ballroom, New York City, NY
May 17 – Hammerstein Ballroom, New York City, NY
May 20 – Global Dub Festival, Morrison, TN
May 27 – Sunset Music Festival, Tampa, FL
June 6 – Paramount Theatre, Seattle, WA
June 7 – Paramount Theatre, Seattle, WA
June 9 – Bonnaroo, Manchester, TN
June 15 – Liquid Pool, Las Vegas, NV
June 15 – Omnia Nightclub, Las Vegas, NV
June 18 – Firefly Festival, Dover, DE
June 22 – Electric Forest, Rothbury, MI
June 29 – Electric Forest, Rothbury, MI
July 28 – Way Home Festival, Oro-Medonte, ON
August 5 – Chasing Summer, Calgary, AB
August 11 – ÎleSoniq Festival, Montreal, QC
August 11 – Shambhala Festival, Salmo, BC
ILLENIUM SOCIALS
KERLI SOCIALS
Facebook
SEEKING BLUE SOCIALS
Facebook
Soundcloud
KASAYA SOCIALS
Facebook
Twitter
Instagram