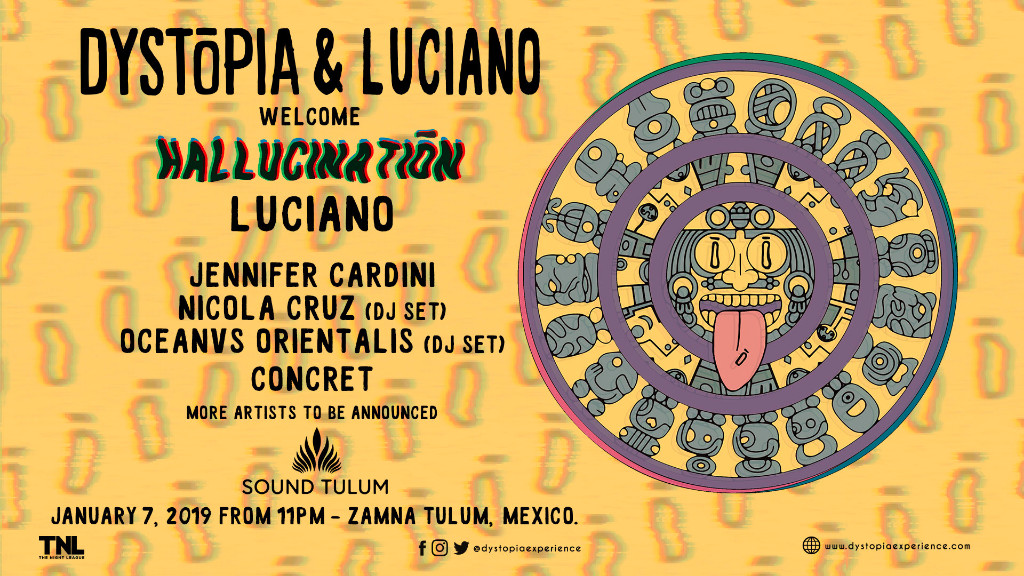 Sound Tulum welcomes DYSTOPIA with Luciano, Jennifer Cardini, Nicola Cruz, Oceanvs Orientalis, Concret and more
DYSTOPIA is a new concept created last summer in Ushuaïa Ibiza at the hands of the talented visionaries The Night League. An experience that immerses its audience in a universe that contrasts with the modern world: music, live art and performances viewed through a distorted lense. A journey that plunges you into a new sensory paradise and invites you to explore your creativity. Brutal, surreal, beyond any limit or prejudice ideology; DYSTOPIA is radically different, it doesn't compare to anything you've experienced before.
On Monday 7th of January DYSTOPIA presents its Mexican debut with a Hallucination theme. The celebration will take place in Zamna Tulum with Luciano as it's headliner. The Chilean has settled in Switzerland and is one of the most respected artists in the international electronic industry. Besides being the owner of Cadenza, one of the most influential electronic music record labels, he has one of the most high profile careers as a producer and as a DJ. He will be joined by other visionaries: Jennifer Cardini, Nicola Cruz, Oceanvs Orientalis and Concret, renowned and essential figures in the contemporary electronic music, and there are still more names to be announced.
Tickets are on sale now via: http://bit.ly/DystopiaSoundTulum