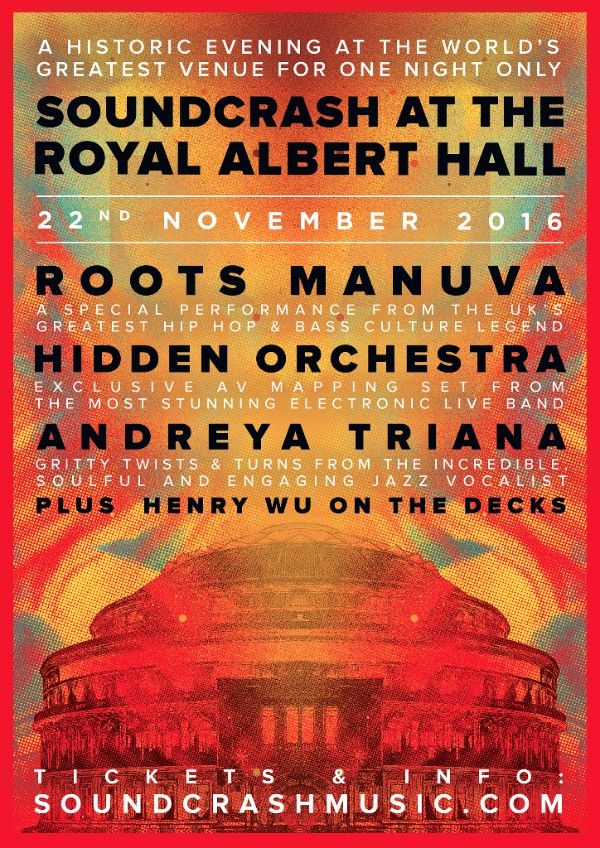 Soundcrash presents its first mini-festival at the Royal Albert Hall
Soundcrash presents its first mini-festival at the Royal Albert Hall, bringing you a historic evening of game-changing sights and sounds in the world's greatest venue.
2016 represented a true return to form for a name in music that needs little introduction – Roots Manuva. He heads up the bill at the Royal Albert Hall with a rare and special performance in addition to unmissable sets from the spectacular Hidden Orchestra and spine-tingling Andreya Triana, with one of the freshest DJ talents in Henry Wu filling in the gaps. This almighty line-up brings a variety of exceptional and genre defying sounds and styles to London's greatest space.
Rodney Smith AKA Roots Manuva is coming to the end of his biggest year to date, after bringing out the LP that everyone has waited for featuring some of his most groundbreaking tunes. Described as one of the most influential men in British music history, his performances are always special.
Known for their exciting and experimental live shows, Hidden Orchestra are set to play a new and very exclusive and special AV show. Lead by multi Edinburgh Based, talented musician Joe Acheson, Hidden Orchestra's performances are known for their high energy, genre mixing qualities, fitting the Albert Hall acoustics and stage effortlessly.
One of the UK's most distinctive singers, Andreya Triana, joins this unmissable line up. With a string of sell out shows across Europe alongside collaborations with huge artists such as Flying Lotus and Bonobo, Anderya's soulful voice is comparable to some of the all time greats. Releasing two forward thinking albums alongside many singles, this London based singer-songwriter is no doubt a strong voice in modern soul.
Bringing fresh beats and nu soul sound to the lineup is Henry Wu. With releases on EGLO and Rhythm Section, alongside a strong fan base including the likes of Gilles Peterson, Bonobo and Mary Anne Hobbs, Henry Wu will be spinning tunes in between shows with a variety of beats, house and soul.
With a decade of some of the most game changing shows London has seen, Soundcrash embarks on it's second decade with the purpose of creating the most interesting, innovative and exciting show in London. Led by Rob Waller and his band of creatives, there is no prejudice between beats, bass, jazz, funk, disco, world, as long as it has soul.
It's exciting times ahead with their huge calendar of London shows, brand new east London venue Echoes, and their boutique festivals (The Soundcrash Funk & Soul Weekender, Paradise Island, and Soundwave Croatia), the next few years look set to be stellar for the London promoters.
Soundcrash presents:
ROOTS MANUVA
HIDDEN ORCHESTRA
ANDREYA TRIANA
HENRY WU
at the Royal Albert Hall
Tickets on sale: Friday 26 August at 10am
via: Soundcrashmusic.com