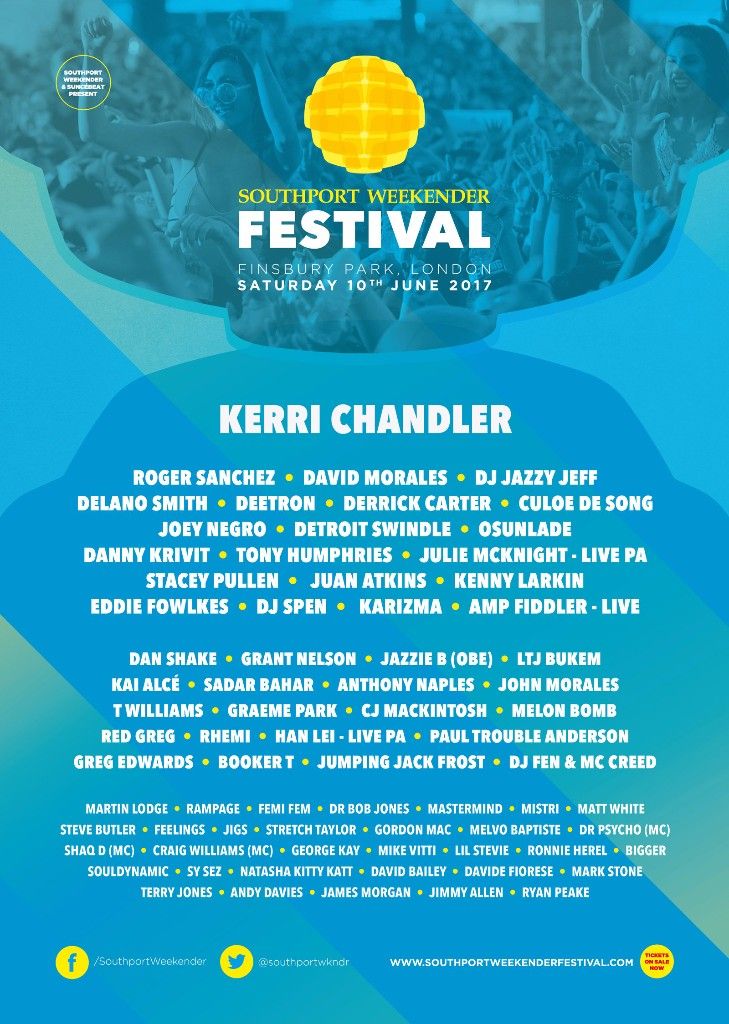 Southport Weekender announces debut outdoor festival…
Having bid an emotional farewell to their longstanding event series back in 2015, the team behind Southport Weekender has announced its return with a one-day festival on Saturday 10th June at London's Finsbury Park. Hailed as 'the world's friendliest party' and one of the UK's most musically diverse, Southport Weekender's London debut symbolises thirty years in the making – and offers a line-up produced with love, care and an unrivalled wealth of event experience.
Setting the tone for what's set to be a masterclass in house, soul, R&B, garage and disco, one of the most respected producer's in the electronic music scene, Kerri Chandler is amongst festival headliner's as well as the much-loved DJ Jazzy Jeff. Native New Yorker's Roger Sanchez, David Morales, Danny Krivit and Tony Humphries continue to head up a host of stateside pioneers on the bill, with the likes of Delano Smith and Derrick Carter also confirmed. Techno originator Juan Atkins and the sincere talent of Osunlade will deliver their game-changing sounds, while Dan Shake signifies a new wave of talent inspired by this classic house sound.

Elsewhere, legendary British selectors Jazzie B (OBE) and Joey Negro embody the festival's soul and disco offering, together with slots from Detroit Swindle and South Africa's rising star Culoe De Song that further prove Southport Weekender's all encompassing party ethos. Godfather of UK garage Grant Nelson and drum and buss musician LTJ Bukem are also scheduled, plus a live performance from the voice of Kings of Tomorrow's 'Finally', Julie McKnight.

With an endless supply of crate diggers, award winners and genre pioneers lined up to celebrate Southport Weekender's long-awaited return, its debut in the capital is set to bring a breath of fresh air to the 2017 festival calendar. Backed by a passionately loyal fanbase that's team also curates SuncéBeat festival in Croatia, on the announcement of Southport Weekender's return alone, VIP tickets are already sold out and general admission tickets are currently on second release – priced at an extremely reasonable cost of £35. A real landmark in this clubbing establishment's trajectory, Southport Weekender 2017 is one to certainly not be missed.
Southport Weekender 2017
Finsbury Park, London
Tickets / Twitter / Facebook / Website

Line-up:

Kerri Chandler
Roger Sanchez
David Morales
Dj Jazzy Jeff
Delano Smith
Deetron
Derrick Carter
Culoe De Song
Joey Negro
Detroit Swindle
Osunlade
Danny Krivit
Tony Humphries
Julie Mcknight – Live PA
Stacey Pullen
Juan Atkins
Kenny Larkin
Eddie Fowlkes
DJ Spen
Karizma
Amp Fiddler – Live
Dan Shake
Grant Nelson
Jazzie B (OBE)
LTJ Bukem
Kai Alcé
Sadar Bahar
Anthony Naples
John Morales
T Williams
Graeme Park
CJ Mackintosh
Melon Bomb
Red Greg
Rhemi – Live
Han Lei – Live Pa
Paul Trouble Anderson
Greg Edwards
Booker T
Jumping Jack Frost
DJ Fen & MC Creed
Martin Lodge
Rampage
Femi Fem
Dr Bob Jones
Mastermind
Mistri
Matt White
Steve Butler
Feelings
Jigs
Stretch Taylor
Gordon Mac
Melvo Baptiste
Dr Psycho (MC)
Shaq D (MC)
Craig Williams (MC)
George Kay
Mike Vitti
Lil Stevie
Ronnie Herel
Bigger
Souldynamic
Sy Sez
Natasha Kitty Katt
David Bailey
Davide Fiorese
Mark Stone
Terry Jones
Andy Davies
James Morgan
Jimmy Allen
Ryan Peake