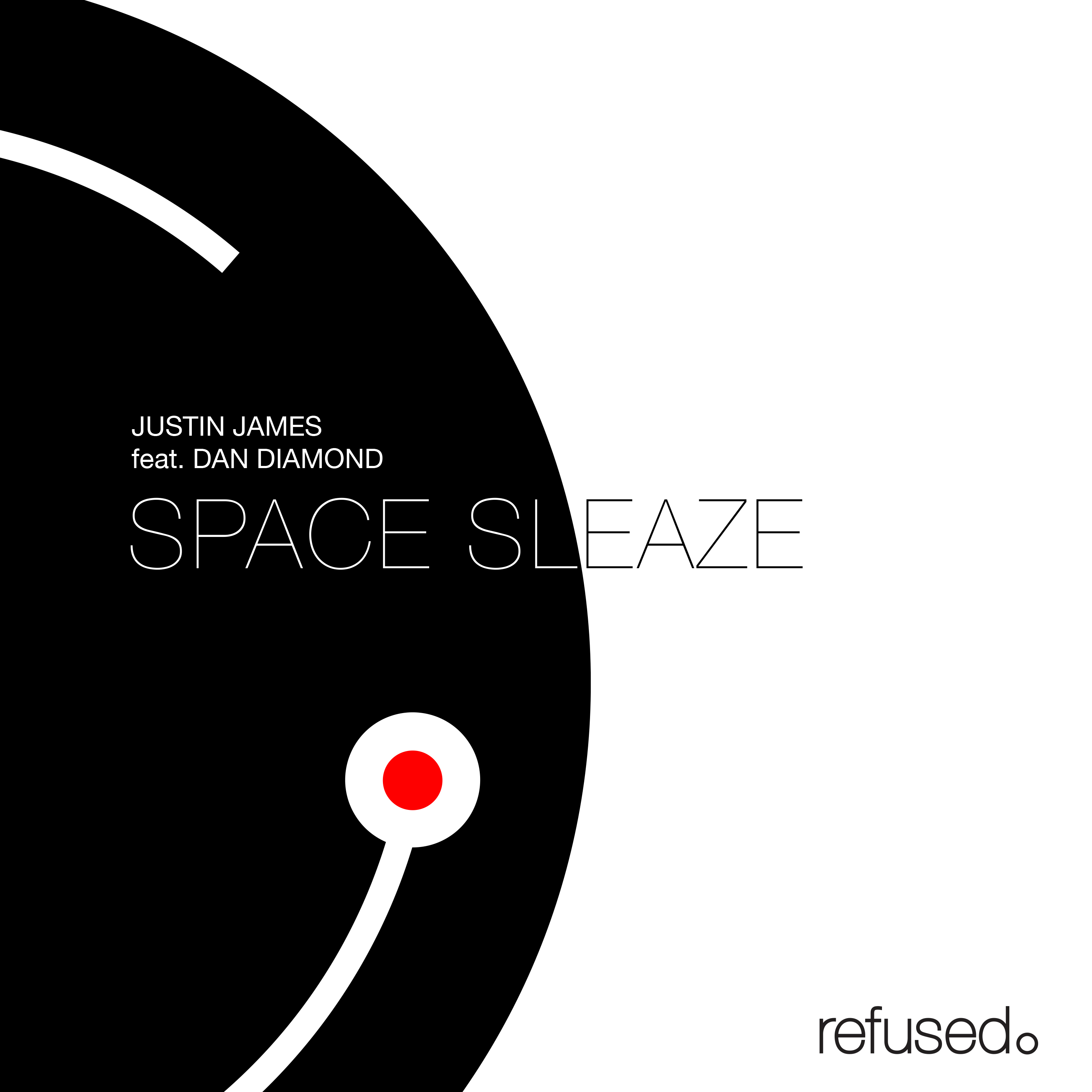 Justin James - Space Sleaze
Justin James is proud to announce the release of his brand new EP, Space Sleaze available on his very own imprint, refused. this December 8, 2015. The EP features two versions of the track with hypnotic, seducing vocals from artist Dan Diamond, known for his work on Peace Division's "Club Therapy Remixes." The first offers listeners a dark, groovy techno record that rumbles below the provocative words of Dan Diamond, while the second is an acapella, placing all the focus on the alluring monologue.
Space Sleaze (Original Mix) – begins with heavy, thumping bass that hits you directly in the chest. The rhythmic gasps of breath immediately set the tone for this seductive record. An intoxicating monologue stimulates your senses, while a frantic beeping creates an intense buildup. Around the 2:25 mark, a groovy percussion line bursts through, adding texture and pulling you deeper into this alluring story. The record comes full circle, ending just as it had begun with small gasps of breath and relentless, thumping bass.
Space Sleaze (Dan Diamond Acapella) – starts off with the same heavy bass of its precursor, while nearly all of the remaining musical effects and elements are stripped clean. Your full attention is directed to the sensual monologue, which remains in tact. Listeners are taken on a rousing journey, which continues for just under 7 minutes.
ABOUT JUSTIN JAMES
When a country's electronic music scene punches as heavily as Canada's, there is always a weight of expectation on artists emerging from its ranks. Fortunately, Justin James' talent, energy and ambition have allowed him to climb the heights of his illustrious countrymen. Justin hails from Windsor, Ontario the same city as his label boss and techno icon Richie Hawtin. With Richie, Dubfire and many others as close, guiding influences, James has used this ammunition to fire his way to international recognition.
Being just across the river from the revered school of Detroit producers has not left James unmoved. The powerful emotions deep within the seminal tracks that emanate from across the border resound heavily in him. Being touched by this rich history has deeply influence James' music production, sharing his own vision of techno with other like-minded souls. A slew of creativity is already available, through releases quickly signed to powerhouse international labels such as Richie Hawtin's 'Minus' and Dubfire's 'Sci+Tec.' James has not rested on his laurels, instead he has taken his vision to the next level by curating his own imprint "Refused," a record label which will showcase forward thinking techno from himself, established artists and up-and-coming talent from around the globe.
Justin James is all about his deep love of the diverse elements of techno. His juxtaposition of raw techno with more organic elements, gives him boundless energy in the studio and behind the decks, which keeps the dance-floor militia on their toes. Cohesively developing a unique style that rolls all elements of techno into one highly kinetic experience, James has the ability to pool his influences, and endlessly move crowds to the far reaches of the genre.
ABOUT refused.
A fresh new techno label curated by Justin James, as a means to contribute to the special culture of underground music. Providing an outlet to share his own music and the music of artists he admires, while also giving new artists a chance to be heard on a larger scale.Therefused. sound will be of forward thinking tunes that fall under the guise of techno. Justin's first release on refused. was a 4 pack EP called Not The Curator out on May 20th, 2014.
All about his deep love of the diverse elements of techno, Justin has taken his vision to the next level by curating his own imprint with refused. As an artist who's released on powerhouse international labels such as Minus and Sci+Tec, a slew of creativity is already available from Justin, and what's next is about to blow your mind.