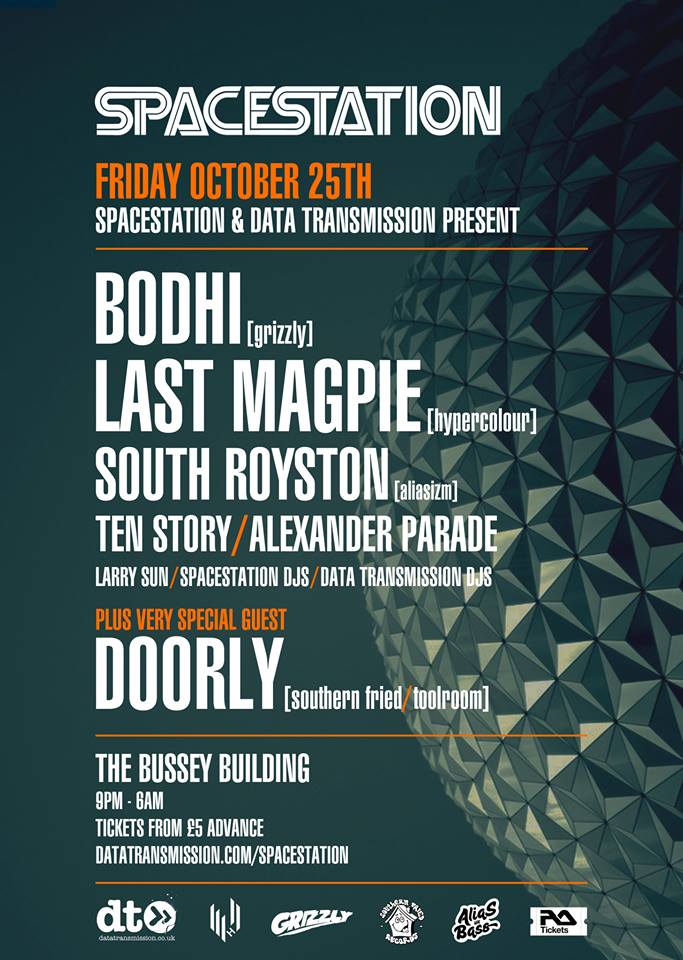 Spacestation and Data Transmission present: Doorly, Bodhi + more
The saga continues…
BODHI
LAST MAGPIE
SOUTH ROYSTON
Very Special Guest:
DOORLY
Plus:
TEN STORY
ALEXANDER PARADE
LARRY SUN
DATA TRANSMISSION DJS
SPACESTATION DJS
After the overwhelming success of the first mission to Peckham back in April, Spacestation have again teamed up with Data Transmission to bring together an electric group of the most exciting DJs, producers and performers from across the galaxy!
With a Summer exploring Europe's top festivals and clubbing destinations including, Exit Festival, Space Ibiza and Creamfields, Spacestaion returns to its South London home – The Bussey Building, in the energetic and vibrant area of Peckham.
At the forefront of the thriving Peckham nightlife resurgence, The Bussey Building prides itself on an attitude to partying based on good vibes and good music, the perfect mantra for a Spacestation experience.
Joining the Spacestation crew this month are some of the most exciting DJs and producers championing the unique sound of the UKs underground…Bodhi, Last Magpie, South Royston, Ten Story and very special guest Doorly.