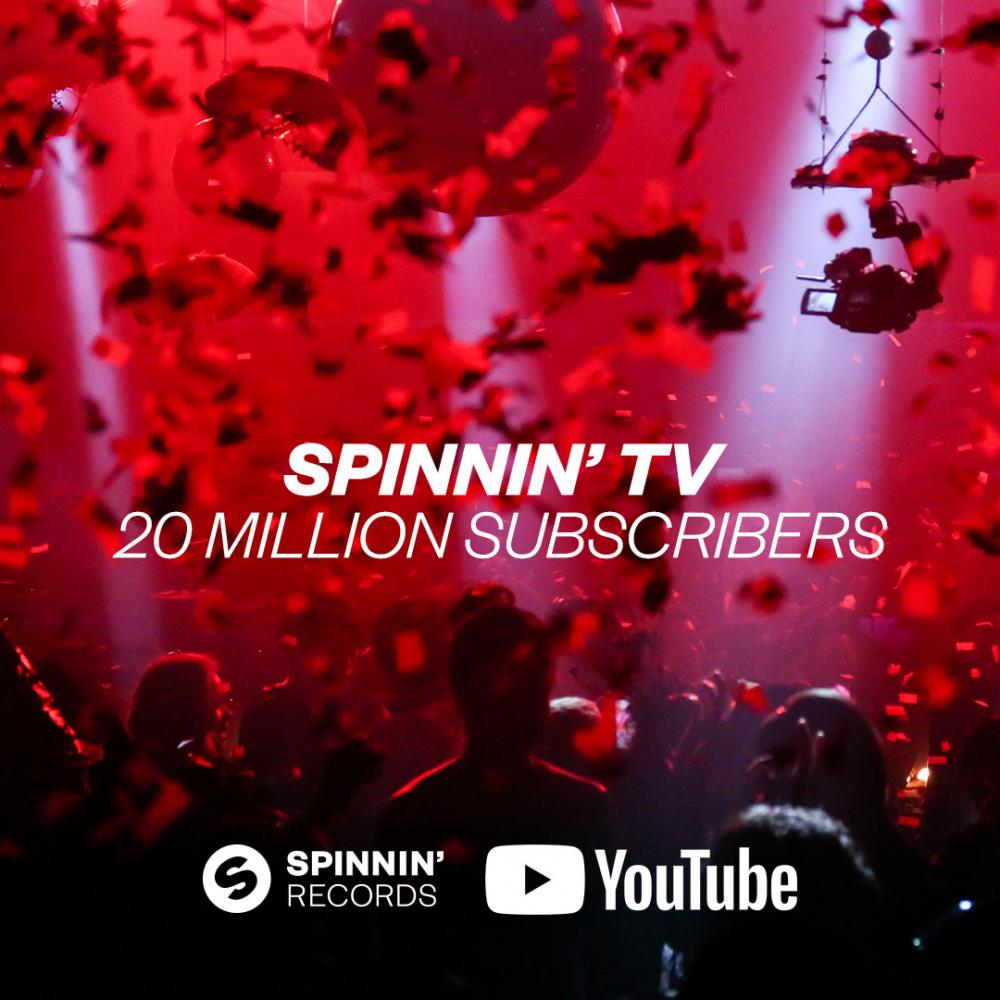 Spinnin' Records reaches 20 million YouTube subscribers
Dutch music label Spinnin' Records has welcomed the 20th million subscriber on its YouTube channel. This has been reached since its launch in 2007, while it welcomed the last 10 million subscribers within the last three years. A special celebratory video including several video highlights throughout the years has just gone live.
It's been quite the revolution Spinnin' Records has caused. Not only did the Dutch music label do groundbreaking work when it comes to promoting artists, also the way it used social media for this was a first in the music industry.
Hence the success of the imprint's YouTube channel, which crossed its first milestone in 2015, reaching 10 million subscribers. Now, merely three years later, the label's platform has raised the bar once again, reaching 20 million subscribers.
Call them early adopters if you will, Spinnin' Records has always been about changing the game. Still honoring its mantra 'it all starts with good music', what the label does once it has the music is remarkable. It all comes down to promoting the artist with a well-oiled online marketing machine, using everything to maximum effect, whether it's Facebook, Instagram, Snapchat, Live.ly or any other new gimmick that's about to reach the market.
Same goes for YouTube, perhaps one of the most exquisite tools to serve your audience.Spinnin' Records immediately saw the potential, setting up its own channel in 2007 to present its records with a full video layout. It caused the aforementioned revolution as this time it was the record label itself publishing videos and taking artist promotion into its own hands.
"Our goal has always been to create a large audience around our brand to be able to promote our artists and their music", says Spinnin's marketing director Meindert Kenniswho received the Diamond Play Button from YouTube's CEO Susan Wojcicki only three years ago. "YouTube has been the best platform for us to achieve this. It has played a massive role in our brand strategy over the past 10 years, underlined by this incredible milestone."
2015 – 2018: touring the globe
After the Spinnin' Records YouTube channel caught a wave in 2009, it never slowed down. Presenting videos by some of the most popular artists in the world like Tiësto, Martin Garrix, Dimitri Vegas & Like Mike, Oliver Heldens, Nicky Romero and Afrojack it quickly gathered subscribers by the tens of thousands.
A new chapter was opened after the first 10 million subscribers were welcomed in 2015. Since then, Spinnin' Records saw its popularity increase in abroad territories. Countries like Brazil (1.3 million subscribers), Mexico (1.2 million), India (650k), the US (400k) and Colombia (350k) proved to be the most steady providers these last three years – resulting in reaching the 20 million subscribers quicker than expected.
"A huge congratulations to Spinnin' Records for reaching an incredible 20 million subscribers. Spinnin' has been part of the YouTube community since the very beginning and has made many key contributions to the international success of dance music," says Candice Morrissey, Head of EMEA Music Partnerships, YouTube. "They've set an inspiring example of leveraging YouTube to connect with fans and reach new audiences. We're very proud of the work Spinnin' has done and look forward to seeing them reach even more milestones."
With the list of followers still increasing, it looks like Spinnin' Records is still on top of its game. Today, the magic mark of 20 million subscribers is celebrated with a special 10 minutes music/video mix.