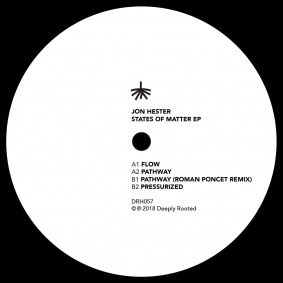 Jon Hester - States of Matter EP
DJ Deep invites Jon Hester to release on Deeply Rooted with three robust techno cuts entitled 'States of Matter EP' featuring a remix from Roman Poncet.
Releasing on labels like Dystopian, Rekids and Amsterdam's LET Recordings, the Berlin-based American's approach to techno is respected to say the least. He now joins Deeply Rooted, following appearances from Ben Sims, Roman Poncet and label founder DJ Deep.
"I am very happy to welcome Jon Hester on Deeply Rooted. Not too long ago I noticed some of his productions while in a record store and I made an instagram story with one of his tracks. Soon-after we got in touch with each other. Whilst it has its faults, I love it when social media works in the direction of good music and helps connect likeminded artists! So here is his brand new 12" featuring a dope Roman Poncet remix! Enjoy, Dj Deep."
'States of Matter EP' very much represents Jon's distinct approach to techno. Tracks like 'Flow' demonstrate a rolling rhythm as intricate percussion and metallic reverb operates throughout. The mesmerising 'Pathway' then features precision kicks and crackling atmospherics before moving into the rolling drums, twisted effects and pitter-patter sequences of Roman Poncet's remix. Tying it all together, 'Pressurized' is an uncompromising cut complete with stuttering claps and quivering synths.
Jon Hester 'States of Matter EP' drops on Deeply Rooted on 10th December 2018.
Tracklist
A1 Flow
A2 Pathway
B1 Pathway (Roman Poncet Remix)
B2 Pressurized