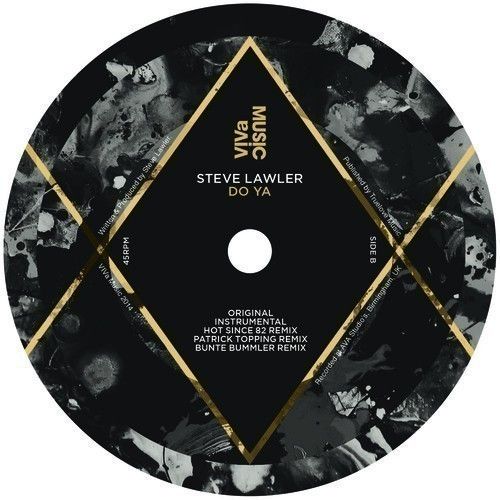 STEVE LAWLER – DO YA
After releasing one of the finest dance floor anthems of 2013 'Avaida, The Organ Track', and a stand out summer in Ibiza with VIVa Warriors being the toast of Sankeys' seven night roster, DJ and producer Steve Lawler now brings you his white hot new single 'Do Ya' on his own VIVa MUSiC.
Original productions don't always explicitly reflect a DJ's artistic flair, however Lawlers latest entry into his labels ever-expanding catalogue stitches together the effortlessly groovy feel that he regularly instils into dance floors worldwide. "Do Ya" continues to establish Lawlers distinctive house music sound, anchored around simple yet effective drum programming with the tracks own momentum emerging as the originals charm.
"Over the last year I have been experimenting with the sounds of old school acid house mixed with the new possibilities of technology. I have been editing and re-working lots of my old records from my extensive collection. Whist going through all this history of house it hugely inspired me to do what house music has always been about; to sample and be creative. 'Do Ya' was born from the depths of my record collection."
Steve Lawler leads the year with his signature musical language; a vocal infused journey sat on platter of light percussion and soft bass, a real house music offering that teases out the essence of his basement VIVa Warriors events.
The limited edition Gold vinyl release, due out on March 24th features the original and instrumental version on the A side, the B Side sporting two very different interpretations from Hot Since 82 and Patrick Topping. It seems the all-conquering Hot Since 82 can do no wrong at the moment, as he supplies a darker vibe that is unmistakeably his own. Rising star Patrick Topping debuts on VIVa MUSiC, having seen considerable success with his Hot Creations output and brings a chunkier trippy taste to the forefront. The digital release, coming out March 12th also includes a dreamy yet rolling remix from Bunte Bummler.
'The remixes all came about organically and are from my favourite producers right now' Steve explains. 'First off, Hot Since 82 heard me play my original when we played together for Radio 1 and asked if he could remix it which I was really happy about, and of course he has delivered a bomb! He has produced a heavy foot stomping modern classic. Up next, Patrick Topping, a personal favourite of mine right now, delivering a groove infused colourful trip very much his flavour. Last but not least the infectious sounds of the mischievous outfit from Germany Bunte Brummler, doing in my opinion one of their best works to date with their techy and dubby yet rich in colour musical house jams.''I'm very proud of this whole project; I have taken my time over it to ensure its life on the shelf and will come out with a limited run of gold vinyls."
Steve Lawler's first single for 2014 "Do Ya" ensures that VIVa MUSiC continues to stand as one of the most solid House Music labels in a field that's typically dominated by European voices, and serves as strong reminder that the label heads A&R skills are as on-point as ever when it comes to forward-thinking producers and DJs.