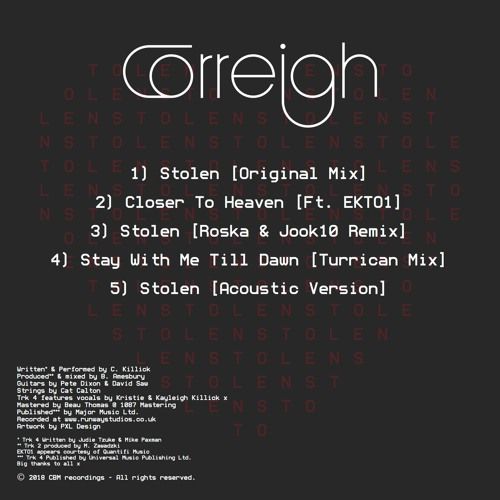 Correigh - Stolen EP
Correigh is a standout UK artist that has continued to make a sizeable name as a vocalist and song writer. Featuring alongside artists including Kevin Saunderson (Inner City), Majora and more. With a distinct sound that transcends the dancefloor she also incorporates a commercial accessibility that has showcased everywhere from Radio 1 to Ibiza.
Stolen EP is a solid 5 track package that takes on a fluent mix of genres. The lead single 'Stolen' hails a reference to Goldie's 'Inner City Life' with a touch of 'Everything But The Girl' and an early Way out West intonation, classic and great production. As the listing progresses we hear Roska and Jook 10 deliver an impeccable Urban-House Remix, a co-feature from EKTO1 widely known for his output on Full Cycle (Roni Size's imprint), then moving to a modern Deep House, cutting edge interpretation with Turrican turning in a trademark mix on 'Stay With Me Till Dawn' rendering an amazing collaboration between Correigh and her two sisters Kristie and Kayleigh aptly showcasing the pool of talent within her family, before finishing with a Neo-Pop approach on the Stolen Acoustic Mix that ensures worldwide radio play.
As an exciting artist we see Correigh and her latest EP continue the fast ascent onto a global stage. We'd love to hear you're feedback or gain a feature or review in one of your represented publications. You can find more information on Correigh here http://www.correigh.com/