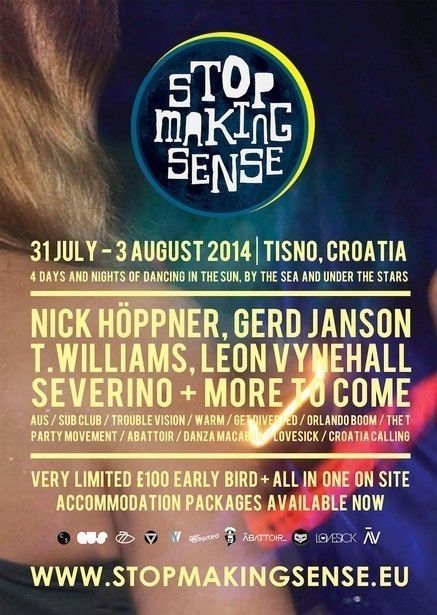 Stop Making Sense: First Headliners Announced
Stepping up a gear for its fifth year running, Tisno favourite Stop Making Sense announces the first headliners for a lineup that brings a whole new level of fun to Croatia, with Nick Höppner, Gerd Janson, T.Williams, Leon Vynehall and Severino topping things off and a whole host of other names promising that this will be an event to remember, and there's still more to be announced.
And Stop Making Sense is proud to announce that Corsica Studios, London's foremost underground club, is joining as organising partner. With Corsica's night Trouble Vision already a firm favourite at SMS, it made perfect sense for the venue to get more involved in all aspects of the event for its fifth year. .
Collaborating with electronic music's most inventive collectives, prolific and passionate promoters, world-renowned DJs and artistic personalities, Stop Making Sense combines the tranquillity of a beach paradise with the excitement of a dance music festival. This year Stop Making Sense welcomes Will Saul's Aus, Glasgow clubbing institution Sub Club, London underground leader Trouble Vision, Warm, Get Diverted, Orlando Boom, T.Williams' own The T.Party Movement, and more, with the likes of Will Saul, Harri & Domenic, Kiwi, Danza Macabra, Mr Solid Gold, Park Ranger, Luka K, Zero and many more representing.
A summer haven for dance music lovers, festival-goers and holidaymakers alike, Stop Making Sense simply needs to be experienced to be believed.There are lots of offers available for tickets and accommodation packages.
Stop Making Sense 2014
July 31-August 3
The Garden, Tisno, Croatia
www.stopmakingsense.eu / www.facebook.com/events/398475686949725/
Nick Höppner
Gerd Janson
T.Williams
Leon Vynehall
Severino
Will Saul : Harri & Domenic : Kiwi : Danza Macabra : Mr Solid Gold : Park Ranger : Luka K : Zero : Anomalous DJ : Rufus & Bambi : Orlando Boom DJs : Ali Tillett : Ollie Seaman : Rob Aldritt : Blonde Ambition : Lovesick DJs : Madera Verde / Aus / Sub Club / Trouble Vision / Warm / Get Diverted / Orlando Boom / The T.Party Movement / Abattoir / Danza Macabra / Lovesick / Croatia Calling
Tickets
£100 early birds on sale now, but selling fast
Advance tickets £120
http://stopmakingsense.yokaboo.com
Check out http://stopmakingsense.eu/sms-tickets/ for details of accommodation and ticket packages